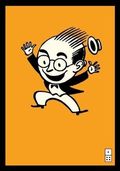 "When was the last time you did something for the first time?"
I've been a Seth Godin fan for more than a decade and have read every one of his books at the earliest possible moment. Seth has an uncanny ability to channel what I'm thinking into a neat package so I can reflect.
That's certainly true with his new book Poke the Box which I loved.
In this video, we discussed how to manage fear and how to embrace failure. These are two things I try to do and it is always great to be given a "poke" or a swift kick in the pants as the book does.
Guess what? You don't need permission!
Towards the end, we also talk about the similarities between the Grateful Dead's marketing and the marketing for Seth's new Domino Project, the publisher of the book (watch the video and then see below).
Direct link to the video interview here.
The Domino Project, publishers of Poke the Box is an independent publishing imprint founded by Seth and powered by Amazon.
For the past several of his books (including Tribes, Linchpin, and The Dip) Seth had been publishing with mainstream publisher Portfolio.
Seth says The Domino Project is an opportunity to publish "idea manifestos" committed to readers, rather than being bookstore friendly. It's named after the domino effect--where one powerful idea spreads down the line, pushing from person to person.
"I have two audacious goals," Seth says. "I want to change the people who read (not enough do) and I want to change the way books are published (they're too hard to find and spread). I honestly believe that a book can change a mind like nothing else, and that's our focus. To help anyone to do work they're proud of and to make a difference."

I was fascinated by the parallels of The Domino Project and the launch of Poke the Box to Grateful Dead style business models and marketing techniques.
Seth is a fellow Deadhead.
The Grateful Dead started their own label (like Seth).
The Grateful Dead gives away tons of content for free (like Seth).
The Grateful Dead gave amazing live performances (like Seth).
The Grateful Dead has deluxe special editions (like Seth).
Early this Year, the Grateful Dead announce a special Europe 72 box set containing every song they played live during their 1972 Europe tour. The 72 CD set sold out all 7,200 copies at $450 each. Hey! This is music that you can get for free on the Web!
Seth is doing the same thing with a limited edition $75.00 deluxe version of Poke the Box (that I happily own).
Why in the world would anyone pay $450 or $75 for something they can get for much less or even for free? Indeed. We can all can learn from Seth and from the Dead.