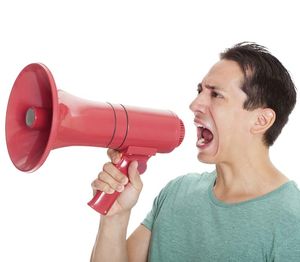 I get dozens of unsolicited press releases and pitches from PR people via email each week. They want me to write about them in this blog, or the Huffington Post, or EContent Magazine, or a one of my books.
OK, fine. If the release or pitch has something to do with what I write about I'm cool.
But it is the nonsense from companies (usually sent by PR agencies) that have absolutely no relationship to what I write about that cross the line to become spam.
To paraphrase the Wikipedia entry, spam is sending email that is both unsolicited by the recipient and sent in substantively identical form to many recipients.
Take this release, which I received a few minutes ago via email, as an example.
I have no clue what this is about and no interest whatsoever in it. I didn't ask to receive this company's information.
Headline
Vello Systems Introduces Industry's Lowest Latency, Highest Density, Multi-Service 10G Solution
Huh? Sorry, I have no clue what this gobbledygook means.
Sub-head
New Sub-5 Nanosecond CX Family Service Card Raises Bar for 10G Performance and Density; Purpose-Built for Latency-Sensitive Financial Computing and Distributed Storage Applications
I'm still confused. Very, very confused. A card?
Brag line
Vello Systems, a leader in high performance cloud infrastructure solutions…
Clouds! I know what they are. Those white things in the sky. And I am aware of this notion of "cloud" relating to computing. I think "cloud" can be abbreviated as "SaaS". Or SaaS means cloud. Or something like that.
The news
…announces the introduction and availability of its ultra-low latency, high-density, 10G CX50T service card.
Yep, it is a card! I have credit cards in my wallet. Playing cards are fun too.
Body of release
Read it here
WTF?
About Vello Systems
Vello Systems develops advanced ultra-low latency, multi-terabit, cloud infrastructure systems and solutions for service providers, enterprise and government institutions worldwide. Its CX Family™ of systems and patented Cloud Switching technology are purpose-built to make the Cloud faster, more agile, and above all more economical. Vello Systems is headquartered in Menlo Park, CA.
Now I get it. They make clouds move faster with some special cards. I bet pilots love this product. Hopefully they pitched Flying Magazine with this awesome news.
Okay, I've had my fun. I've written about Vello Systems. (Isn't that what they wanted). Sorry to pick on this company but this was the release I saw first when thinking about this topic.
So what should you be doing to reach people like me effectively?
Here are some ways to be successful with the media:
Follow us so you know what we are interested in
> Read our blogs.
> Comment on our blogs.
> Read our books.
> Follow us on Twitter.
> Read our publications (or watch & listen to our TV & radio shows).
> Attend our speaking gigs.
Pitch us in the areas we write about
> Send well-crafted, personal email telling us something that is interesting and helpful in the area that we cover.
> Send us something in real-time when we are interested, not when you happen to have news.
Publish yourself and bypass the media
> Publish your own blog.
> Produce videos
> Tweet
Here is my single most essential PR pitching tip
Don't pitch your product.
Most journalists don't care about products.
Instead…
Tell us how your organization solves problems for customers.
Image: Shutterstock / Wolfgang Schaller