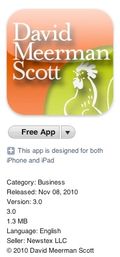 I've just released my own free David Meerman Scott iPhone and iPad applications. Check it out and let me now what you think. (Note that it takes a few moments to load the first time.)
I've done this partly as an experiment because I'm convinced that the public relations, analyst relations and investor relations departments of companies need to create such applications to reach their constituents.
Let me explain…
I've talked about the critical importance of the online media room (sometimes called press rooms) many times. This is the place on a company's Web site where information is made available for members of the media, analysts, and, well, anybody. A content rich online media room filled with blog posts, videos, podcasts, ebooks, press releases and background information is highly valuable and delivers terrific SEO (because it is usually updated frequently).
In my travels around the world, I've noticed more and more reporters and analysts using mobile devices, especially iPads, to take notes during meetings. I've also seen many iPhones, Blackberrys and the like constantly in use when they're on the go.
PR people need to reach media and analysts via mobile applications
So I think companies need to extend the content delivery ideas of the online media room to include development of mobile applications specifically designed to provide information for the media, bloggers, industry analysts, and financial analysts who cover the company.
And added benefit is that the applications can double as a tool to reach employees and partners as well as existing and potential customers.
The application should include such things as a real-time press release feed, links to real-time updates on appropriate corporate blogs, videos, a Twitter feed, event signups (such as press conferences), and contact information.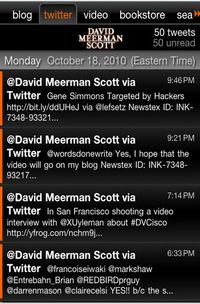 My application was created by Newstex, a company I'm an advisor to, specializing in the complex plumbing that drives real-time content behind the scenes on applications and Web sites. It turns out that the difficult part of application development is the back-end (updating feeds in real-time and supporting related images and links).
My application includes my blog posts, Twitter feed, videos, and link to my online bookstore on Amazon. Newstex has also created an application for PR Newswire that's being rolled out in multiple languages.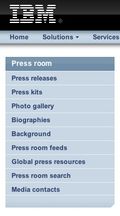 When a reporter or analyst has an application for the company she covers on her mobile, then she can easily check what's going on as well as generate alerts for things like press releases, all on her device of choice.
Here's the IBM media room. Imagine all this content feeding an application that is then used by the media (Wall Street Journal reporters as well as trade journal editors), industry analysts (like Gartner and Forrester) and financial analysts (at firms that cover IBM's stock like Goldman Sachs).