UPDATE: Joe Payne told me Payne says that within two weeks of this blog post, Eloqua closed a deal with software company Red Hat that was worth more than $500,000 over two years. They also closed with TRUSTe, a major Internet privacy services company. The half dozen new Eloqua customers gained from this real-time communications effort combined to generate just under $1 million in business—business directly related to Payne's real-time blog post.
++++++++++++
Imagine a huge company announces it is to acquire one of your competitors. It hit the wires five minutes ago.
What would you do right now?
Not tomorrow. Now.
How about writing a blog post about it in real-time?


That's what Joe Payne, CEO of Eloqua did when Oracle announced the acquisition of Market2Lead, a company that is also in the marketing automation arena.
I'm on the Eloqua advisory board and was having dinner with Joe, other advisory board members, and the Eloqua management team on May 24 in San Francisco when this went down.
Joe checked his blackberry and saw that the announcement had just been made.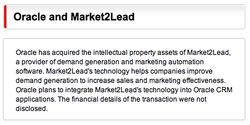 The Oracle announcement contained only a North Korea style one-paragraph announcement. So Joe realized that there was a tremendous opportunity RIGHT NOW to write a blog post and define what the announcement meant.
In his post Oracle joins the party published a few hours later, Joe said (in part): "I expect Oracle's entry to make a major difference in the attention paid to this sector. It's going to open marketers' eyes, and, as a result, expand the market. This is exactly the type of movement this industry needs. You see, the potential market for lead management systems is less than 10 percent penetrated."
Eloqua CEO owns the soundbite
Can you see what Joe did? Oracle announces an acquisition but provides almost no details. The media is hungry for something to say and someone to quote. Bingo, a Google search pops up Joe's post and now reporters, analysts, and bloggers have an authority to cite in their stories.
As a result of this real-time market commentary, Eloqua became an important part of the resulting stories.
Here are a few examples of the resulting ink:
BusinessWeek
InfoWorld
Customer Experience Matrix
PC World
Customer Think
Now, when people want to learn about this transaction, they find Eloqua in the discussion. If you're an analyst coving the market category or an existing customer of Market2Lead or are evaluating marketing automation platforms, Eloqua becomes someone you should consider.
Brand journalism at work.
I'm constantly amazed at what a real-time blog post can do.
When everyone else is pitching the media using traditional methods, why not frame the discussion with your own well-placed commentary on the news.
Real-time brand journalism works.