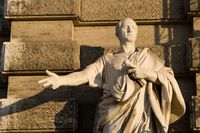 The conference as we used to know it was very stiff, structured and didactic.
It's been the same since Cicero—the speaker spoke and the audience listened. Maybe the audience had a chance to ask questions at the end, or chat about the content at coffee break, but like television it was essentially one-way communication.
I speak at about 50 conferences and events all over the world each year. The best are those that integrate the physical event.
Integrate Social Media at your event
Now, at conferences all over the world, audience members connect with one another in real time while speakers are up at the podium. This "back-channel" is truly revolutionary as it allows listeners to discuss content as it is being delivered. What's more, it brings a new virtual audience into the room—sometimes from the opposite end of the Earth.
Hashtags allow people in the audience and everywhere else can tune into the back channel. Many attendees post photos and video clips in real time too so people can see what's happening.
Crowdsourcing - when others post content to your conference site - is a terrific way to build valuable information.
It's not just Twitter either. Some people at conferences now use GPS-enabled mobile applications like Foursquare—which allows you to see where your friends are in the conference hall (or playing hooky at the bar). And with live video streaming services like Qik, anyone can upload a speech to the Internet in real time.

Alan Belniak, Director of Social Media Marketing at PTC, wrote about how he integrated social media into the PTC/USER World Event 2010 held a few weeks ago in blog post How to Leverage Digital and Social Media at Events/Conferences.
Here are some of the things Alan did:
Developed a single page where all of the social media feeds could be found.
Gave about a dozen people Flip Video cameras and had them create videos that were uploaded onto a YouTube video channel
Created a Flickr feed
Established a hashtag - #ptcuser10 – and then archived the Twitter feed
Aggregated 35 different bloggers posts.
Alan's example is a good one. Check out his blog post for details on how he did it.
Archive the content forever
Here is a final, but critically important point. You need to archive all this great content so that people can find it in years (and decades) to come.
Sadly, many companies re-use their conference web sites year after year and delete last year's conference content to create this years'. Don't!
Keep each year's content so people can go back and check. Additionally, the inbound links will help in your natural SEO.
Cicero Image: Shutterstock / Jozef Sedmak
Disclosure: I have done some coaching work for PTC.