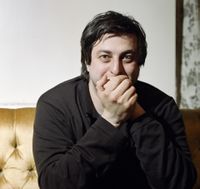 "There is no middleman between me and an audience," says Comedian Eugene Mirman, known for his work in Flight of the Choncords, his book of satire The Will to Whatevs: A Guide to Modern Life, and appearances on Comedy Central and Late Night shows.
He has a blog, a Facebook page and is on Twitter.
"I want to be entertaining on the web," he says. "That's what's fun for me. While there is a store on my Web site, the push is to provide things to entertain people."
And entertain he does, Eugene's Twitter bio reads: "I am television's Eugene Mirman. I am very nice and like seafood." Sample tweet: "I started a tortilla fire in my toaster oven. Last time I leave to watch a preview of the new Green Lantern movie." And he even included a link to a photo of the evidence.
Eugene uses Facebook and Twitter as ways to get his information out to multiple audiences very quickly.
For example, immediately after he delivered the 2009 commencement address at Lexington, MA High School, he posted the video on YouTube and then pointed to it from his blog, twitter and Facebook. The video got 100,000 views in just one week.
"I don't obsess with the statistics," Eugene says. "I'd like to think of a funny tweet or blog post, but mostly I am doing a lot of things and seeing what happens. I write things that I think are funny as a tweet, in 140 characters, and then push it out there. I don't think, 'I have to do a blog post today'."
Eugene says that he just writes what's interesting to him at the time and he doesn't worry about his productivity.
"I want to do things are funny and I want a lot of people to see it, but I do what I think is good and funny and then hope that others pass it on," he says. "It's easier for me to do what I like, and if it attracts fans then that's great. And I'm lucky that it has been effective over the years to do it this way. I talk to a lot of people who want to be writers. With social media, you can tell a story. If you have a special interest, like cooking, then you can get an audience."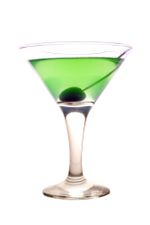 Alert readers of this blog may recall my metaphor of the web as a city and social media as a cocktail party. Cocktail parties are fun. You go because you want to be there. And while the possibility of meeting someone who could become a customer is a distinct possibility, that's a by-product of good conversation.
Like Eugene, it is best if you have the right attitude going into social networking sites. While he is a comedian, all sorts of people are interesting company at a cocktail party (including you).
Image credits:
Top: Eugene Mirman
Bottom: Shutterstock / Argunova