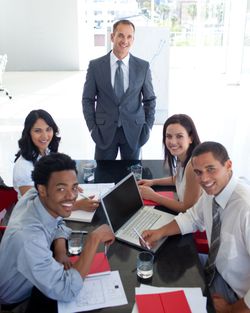 Maybe you can help me. I really want to know:
Who the hell are these people?
Who are these young, happy, pretty, multi-cultural people with great teeth and even better hair who hang out with notebook computers in sleek and modern conference rooms on B2B company Web sites all over the world?
Who are these international inhabitants of virtual corporate locales?
The reason I ask is because I've personally been inside hundreds and hundreds of B2B company offices in over 20 countries and have spent time in probably a thousand conference rooms over a 25-year career. Yet I have never seen these people who seem to inhabit a weird virtual world of corporate Web sites at organizations across the globe.
Don't get me wrong. I have no problem with stock images used in a clever way. In fact I use frequently use images from Shutterstock on this blog. I use stock images in presentations and I use stock images in my ebooks. It's not the photos. It's the ways they are used.
Visual gobbledygook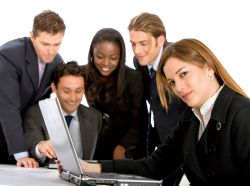 The problem with the B2B happy multi-cultural conference room with computer shot is that it has become a cliché. It is world-class, cutting-edge, mission-critical visual gobbledygook. Just like written gobbledygook, this kind of image is so overused to have become meaningless.
These models don't look like you. They don't look like your employees. And they don't look like your customers (unless you run a modeling agency).
Because these models don't look like you or your customers, it is insulting and demeaning to everyone (your employees and customers especially) to use these shots on your homepage and throughout your site.
Who is pimping your company?
Its sort of fun when I spot the same pretty model on two different sites. I've found one particular photo at use at multiple companies, including one of the biggest and most famous technology companies in the world. Is that really what you want? Some model representing your valuable brand? Really?
Use real people instead
Why not just use real people on your site? How innovative! Use real employees in a real conference room to represent your employees in a conference room! Damn. Why didn't we think of that? And use your real customers too.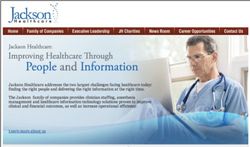 Last week I presented at a meeting of executives at Jackson Healthcare. I went into my rant of stock photography (in this case happy multi-cultural models posing as healthcare workers). I popped up a screenshot of the Jackson Healthcare homepage with a model pretending to be a doctor.
Then a remarkable thing happened. Just a few minutes later, the CEO of the company, Rick Jackson, raised his hand in the middle of my presentation to say they had swapped out the pretend doctor for a real one!
Wow. That was fast. And the actual doctor has a wonderful story too.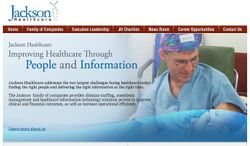 The baby being held in the picture is the child of a woman having surgery on the JH medical brigade in Honduras in 2008.
The story with Dr. Eustis was that he brought a teenager from Honduras to the US to take care of him and provide needed care for his leg in order for him to live. He did surgery on his leg in Honduras on the JH medical brigade, but wasn't able to give him the proper care he needed there.
Now, isn't that a heck of a lot better than a model dressing up like a doctor?
Just say NO to pretty models
Let me say again that stock images are great. I use them all the time. I'm not saying that you shouldn't use stock images.
However, I am saying you must re-think using models to represent your employees and your customers. Lose the visual gobbledygook.
Credits
Top photo: Shutterstock / Sean Prior
Second photo: Shutterstock / Andresr