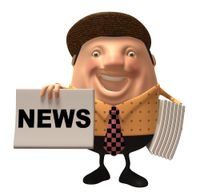 I want to know why companies insist on sending me press releases via email in areas that I clearly do not cover. What a pain in the butt to have to wade through these things in my inbox every day.
Don't get me wrong. I'm a fan of using press releases as a tool to reach buyers. You can read more about that in my free ebook The New Rules of PR. Press releases can be a valuable way to communicate.
I'm also a fan of sending personal messages to people to alert them to things that they may find interesting. I really do welcome the many emails and direct messages that people send me about things that I would enjoy seeing. Many stories in my books and speeches and this blog come from you. Keep them coming! (And thanks).
My problem is with press release spam. Sending press releases to people in areas they do not cover is spam. SPAM, Spam, spam.
What, exactly, do you want me to do with your stupid press release?
Here is a small sample of headlines (and subheads) of some of the releases I have received via email in the past few weeks. WARNING: SOME ARE IN ALL CAPS!
Can anyone figure out why I should care?
Appendix Sonovision-ITEP Signs Reseller Agreement with Inmedius® for Expanded Alliance: To Partner in Single Source Software and Services offering by Appendix
Image Microsystems Wins 2009 Texas Employment Award: Workplace training and employment programs for deaf and special needs community garner top honors for US technology restoration and e-waste recycling leader
Offerpal Media Marks Two-Year Anniversary with 160 Million Users and 730 Billion Virtual Points Issued: More than 2,000 publishers count on Offerpal's virtual currency payment platform to monetize online games, virtual worlds, social networks and subscription services
Juan Pablo Giometti, President and CEO of National Hispanic Entrepreneurs' Organization to Attend Inside Kenan-Flagler Case Competition October 29 - 31, 2009
MediaBeacon Appoints Enterprise Content Management Veteran to Enhance and Expand Marketing Initiatives: Tom Rieger brings more than 20 years of industry experience to be the Vice President of Marketing and Business Development
LOCAL BUSINESSWOMAN DEBORAH PERRY PISCIONE WINS WOMEN'S INITIATIVE WOMAN-OWNED BUSINESS OF THE YEAR AWARD: Bay Area nonprofit for women entrepreneurs announces winners of 2009 competition
Emma Thompson, Helen Bamber to be honored by UN Journalists Nov 11
Inter-Pacific Securities Goes Live with SunGard's GL Net for Direct Market Access to Malaysia
HighTech PR, Inc. Celebrates 10 Years in Business: Launches New Website in Honor of 10th Anniversary, Receives 2009 'Best of Orlando' Award in the Category of Public Relations by the U.S. Commerce Association (USCA)
NETSUITE DOUBLES PHILIPPINE OPERATIONS AND DELIVERS LOCALIZED SOFTWARE TO ADDRESS MARKET GROWTH FOR CLOUD COMPUTING BUSINESS SUITES: NetSuite Version 2009.2 Localized for Use by Philippines-Based Businesses Certified by Bureau of Internal Revenue
EA SPORTS LAUNCHES MOBILE MARKETING TOUR FOR FIFA SOCCER 10: FIFA Soccer 10 Launches with 15 City, Five-Week Tour Featuring Custom-wrapped Vehicles Equipped with the New 120GB PlayStation®3 Computer Entertainment System
FORMCLIQ™ INVOICES AUTOMATES AP WITH NO SETUP; AVAILABLE NOW STARTING AT UNDER $3,000
Telmetrics and TARGUSinfo Launch New Service to Improve Effectiveness of Direct-Response TV, Online and Print Advertising Campaigns: Combination of Call Routing and Call Measurement Solutions Helps National Advertisers Maximize B2C Conversions by Delivering Visibility into Campaign Performance
ONLINE STATIONER MOO.COM ANNOUNCES FIRST MAJOR UPDATE TO ICONIC MINICARDS: New MiniCards Give Individuals and Small Businesses More Creative Freedom To Promote Themselves and Showcase Their Work
Stylesight and Itochu Fashion System Co., Ltd. Team Up to Provide Localized Japanese Trend Information Service: B2B Trend Content and Software as a Service (SaaS) Provider is First to Address and Fulfill Global Client Demand for Growing Japanese Market
If you are a PR person and have sent me one of these releases, please remove me from your list. Thank you.
Image: Shutterstock / Julien Tromeur