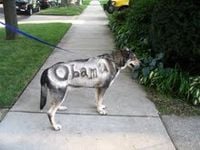 On Election Day 2008, an amazing 25 percent of Barack Obama voters were already directly linked to him through social media, including blogs, Facebook, Twitter, and other social sites according to The Nation. Putting aside politics and just considering the election from a marketing standpoint, I am absolutely convinced that Obama won the U.S. presidential election because he was the candidate who most strongly embraced new marketing. Way back before he even declared himself a candidate, Obama and his staff and volunteers jumped into the online world.

I had an opportunity to learn details about strategy when I sat down with Kevin Flynn, who worked on the Obama Campaign's New Media Blogging Team, a Chicago-based core group of online campaigners. "I was part of the blogging team, and in the midst of the new media braintrust," he says. "I ended up working on the social media efforts for fifteen states. Each state had their own blog, which had localized content, and I built contacts with people in each state who sent me stories, photos, and other information for the blogs. People were so excited to have someone in the organization who wanted to help, so they all fed me great content. Once they saw their photos on the national campaign pages, they got even more excited."
During the campaign, Flynn was responsible for editing and creating posts for a collection of state blogs that included Alaska, Arizona, Georgia, Hawaii, Kansas, and Texas. "The Obama candidacy was exciting for his supporters and those of us working in the campaign," Flynn says. "The technology is easy. If you provide people with the technology tools and there is excitement, then people will make it successful."
Of course, the Obama campaign marketed itself in many more ways than just through social media. But the use of television, direct mail, door-to-door outreach, and rallies have been used for decades and are subject to limitations. "There is no way to talk back with traditional marketing like radio and TV," Flynn says. "With blogging, it creates a conversation and the campaign gets feedback. If there is interest in a topic, then the campaign can change quickly. People can get involved because it is two-way instead of just one-direction. You can grow when there is a dialogue."
Prior to working on the Obama campaign, Flynn had worked in the Chicago financial markets, so he has an ideal perspective to offer advice to corporations on blogging and social media. "Don't be afraid of change," he says. "Don't be afraid to hear things that are uncomfortable, because only by hearing things will you be able to adjust and grow. In this rapidly changing world, you need to listen; otherwise you won't be able to survive."
The staff and volunteers from the Obama campaign worked very closely with the bloggers who cover politics and provided them with valuable information that helped them to write better posts. While some enlightened organizations do focus on influencing important bloggers by reaching out to them, most have a policy of ignoring bloggers, even as they spend a great deal of effort attempting to cultivate relationships with members of the mainstream media. This is a mistake. Bloggers are important voices. Just ask the Obama campaign—bloggers helped elect a president of the United States.
The Obama campaign example shows that making a concerted effort to integrate other bloggers' content into your own works very well. Although this example is from politics, similar strategies for engaging and influencing other bloggers can work for almost any organization. Another organization that's boldly working with bloggers is the New York Islanders professional ice hockey team. The team created what they call the Islanders Blog Box, a program that provides bloggers with press credentials for games. The program started at the beginning of the 2007-2008 season and was among the first of its kind for a major professional sports team. Each season, about a dozen bloggers are chosen to receive credentials, and the team links to their blogs from its site.
Other organizations set up "blogger days" where people who write blogs that are influential in their industry get the chance to spend the day with the company. They are treated to information about new product releases, have lunch with employees, and sometimes even meet with the CEO or other executives (like General Motors did with me a few weeks ago).
These outreach programs are critical to providing bloggers with the information they need to tell your story for you.
"Skip the Obama Dog" image courtesy of Kevin Flynn