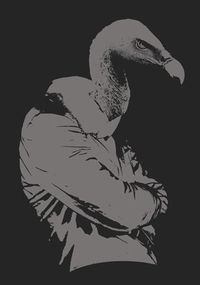 It doesn't matter what industry you're in, we can all learn from the marketing that smart rock bands are doing online.
So how do you launch a rock super group?
Well, everyone knows the rules. You spend months in the studio cutting a killer album with a major record label. You set a release date and prior to release you get your friends in rock media (like Rolling Stone magazine) to review it. Your management company and label figure out what single to release and you get radio airplay and do a music video. After the record has been out for a few months, you do a multi-city tour based on the success of the album.
Everyone knows that's the way, right? Well, everyone is wrong.
When I was at Lollapalooza last month, the biggest buzz was not from any of the 150 or so bands that took to the six stages over three days. The most anticipated show was a "secret" late night club gig by Them Crooked Vultures, the band's first-ever public performance at Metro, and it was the talk of Chicago. Alas, with a teenage daughter in tow, we didn't make the age requirement for the club so we didn't even try to get in.
Them Crooked Vultures formed in Los Angeles this year. How about this lineup: drummer Dave Grohl (Foo Fighters, Nirvana), vocalist and guitarist Josh Homme (Queens of the Stone Age & other bands) and bassist and keyboardist John Paul Jones (Led Zeppelin). Sweet.
I'm absolutely fascinated by how Them Crooked Vultures is launching.
After the club gig during Lollapalooza weekend, the band travelled to Europe for a club show at Amsterdam's Melkweg, followed by several UK festival-related gigs.
The band's official web site is, to be polite about it, limited. It's got like four pages and one of them doesn't work. But a link from the site goes to an active forum where passionate people can discuss the band. I'm intrigued by a new band that runs an official site that is really nothing more than a place for fans to congregate.
There's a Twitter feed @crookedvultures and a MySpace page. The other official online content is the band's YouTube channel, but here again, Them Crooked Vultures has taken a highly unconventional approach. The channel has a few videos produced by the band including some studio rehearsals. But the majority are amateur videos shot at the band's several live shows.
Remember, this is a band that does not yet have an album. You can't buy the music. Yet instead of crying "copyright infringement" and calling the lawyers to get YouTube to remove the vids, the band encourages fan videos of their original and unreleased songs and even put the best ones on the band official YouTube channel.
Damn. I love it. The traditional major label guys must be going into convulsions at what is completely foreign to their way of thinking.
As people enjoyed the videos, the band announced a small number of additional club dates in North America and Europe. When tickets went on sale Saturday (maximum number per order – two tickets), they sold out in, like, two seconds. (Yes, I scored a pair for the Boston gig).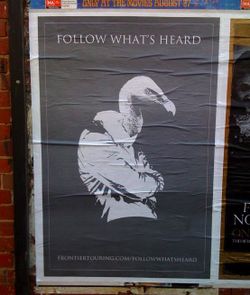 While I was in Australia last week, there were rumors flying around about some dates down under. Clues were a cryptic rock poster titled "Follow What's Heard" with a URL that leads to a countdown clock. Savvy fans figured out what it likely meant and are filled with anticipation for the possibility of Aussie dates being announced.
Imagine what's next for Them Crooked Vultures
Here's how the launch is likely to play out. The band plays the dozen or so small club shows each in North America, Europe, and Australia. Tickets are scalped for big bucks. Lucky fans who get in are ecstatic. The forums are abuzz. The YouTube videos hot. A bunch of tweets and blog posts. Rock reporters from the newspapers in each city where there is a club date will write a glowing feature (the most excellent Sarah Rodman from the Boston Globe will write the one for my city). A World Wide Rave.
Then, quite a bit later, an album comes out that because of all the pre-buzz debuts in the top ten (or even number one) on Billboard. An arena tour follows. A band is born.

Sure beats what everyone knows is the way to launch a band.
What about your business? What can you learn from Them Crooked Vultures?
Australia poster photo via DogwoodRust