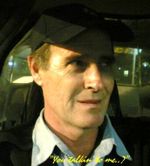 I've been a fan of Adrian Neylan's "cab blog" for the past four years and I even included it as an example in my book The New Rules of Marketing & PR.
Adrian works the late shift, driving a cab in Sydney, Australia from 5:00 PM to 3:00 AM. After most shifts, Adrian writes a story about a memorable encounter with a passenger and posts it on his blog.
Adrian is a fantastic writer. His stories are funny and interesting, and can sometimes be moving. I find myself laughing out loud or thinking throughout the day (or sometimes both).
So it was with great excitement that I finally had a chance to meet Adrian while in Sydney this week. I hired him at the start of his shift to take me on a personal tour of South Head and Watson's Bay. Truth be told, he could have taken me anywhere because I just wanted to meet him and see what it is like to be in his cab. After reading so many of his stories, I felt the cab to be a strangely familiar place.
You can read any of Adrian's stories to get an idea of his style, but here are a few opening snippets from recent posts.
Fridays: "Most drivers consider Friday night the best shift of the week. I absolutely loathe it. If it's not the endless peak hour traffic and it's frenetic ratbag drivers, it's the difficult office jerks who lose any semblance of courtesy after a few drinks."
Old mates: "Working predominately at night I rarely encounter the generation from war time Australia. So it's always a surprise and an honour whenever one of these old diggers climbs aboard and puts some perspective on the hustle and bustle of life."
Luck: "Like most jobs taxi driving has its moments of luck, usually the result of preparation and perserverance rather than simply slacking around."
Or if you want to get a bit racy, you can also read about sexting.
Adrian told me that he has enjoyed storytelling since he was in school. Six years ago, he realized that he can publish through a blog and get an instant readership. He describes his cab as a "content rich environment" with a "story every night."
In this video, I asked Adrian about how he creates the stories.
A few thoughts:
1) All of us can learn from the way that Adrian puts stories together. I certainly have. If you're struggling with what to write about in your own blog, read Adrian for inspiration.
2) If you find yourself in Sydney and need a cab at night, contact Adrian!
3) Attention book publishers: Adrian has over 1,000 stories on his blog. The best ones would make a fantastic book.
(Note that Adrian goes on holiday for the first two weeks of September, 2009 so no new taxi stories – what am I gonna do every morning? for the next 14 days)