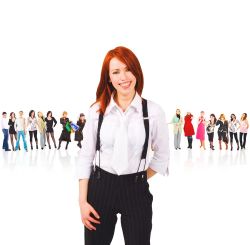 I'm amazed when someone writes a terrific blog or has a great Twitter feed (or a presence on some other social networking site) but fails to say who they are. Don't they want to stand out from the crowd?
Your blog's "about" page, your Twitter bio and the other places you interact online are a great opportunity to say who you are! It is an essential element of personal branding. Don't ignore the opportunity to tell the world about you.
What does your blogs About page say?
If you are taking the time to blog, you need to have a great About page that includes your photo, biography, affiliations, and information about your blog. Often when people visit a blog for the first time, they want to know about the blogger, so it is important to provide background.
This is very important for corporate blogs where you should tell readers who you are personally as well as your affiliation with your employer.
Here's what I do
I actually have several pages I point people to from the top left navigation of this blog.
Disclosure, comment, review, pitch, and use policies
About David Meerman Scott
About Web Ink Now
Note that I have chosen not to use the standard About page that comes with TypePad, the blog software that I use. Instead, I have created a few pages on my blog for information about it and my policies. And I point to a bio on my site.
Many blog software About page templates are terrible. I particularly hate the way Blogger does it. I have never seen a blog created in Blogger that has managed to navigate the template of the Blogger About template.
If you have a blog using Blogger and you've figured out how to make a professional looking about page, please comment here. Although I do not blog in Blogger, I do have a profile (which sucks big time). I have a profile because use it to leave comments. More information on comments are here.
What does your Twitter bio say?
You only get 160 characters. As a component of personal branding, this is a critical section. Don't leave it blank. And don't make a mini-resume from a laundry list of attributes like: "father, brother, surfer, economics major, world traveler, marketer, and rockstar wannabe." (That would be my list) I see this sort of thing all the time and it is not good for personal branding.
Try to be descriptive. And try to be specific. My Twitter bio is Marketing speaker and bestselling author of The New Rules of Marketing and PR and the new book World Wide Rave
Make it easy for people to contact you
Encourage people to contact you, make it easy for them to reach you online, and be sure to follow up personally on your fan mail.
You'll get a bunch of inquiries, questions, praise, and an occasional detractor if you make it easy for people to contact you. Because of the huge problem with spam, many people don't want to publish email addresses. But the biggest problem is with automated robots that harvest email addresses, so to thwart them, write your email address so humans can read it but the machines cannot. For example, I list my email address as david (at) DavidMeermanScott (dot) com.
What about you? How have you told the world about you on your blog or social networking sites?
Image: Vibrant Image Studio / Shutterstock