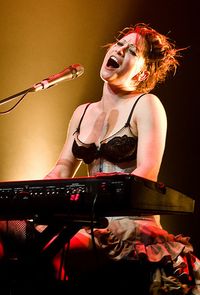 Yesterday I enjoyed speaking with Amanda Palmer, lead singer of The Dresden Dolls and punk cabaret force of nature about connecting with fans both online and off.
Amanda uses her dynamic personality to connect both in person and on the Web. She has amassed a large online following on her blog, her MySpace page (75,000 friends), Facebook fan page (20,000 fans) and her Twitter feed (40,000 followers).
Here's the video portion of our discussion. As the video is on the long side, please see below for the timings of different things we discussed if you can't watch the entire thing. I've also provided some of the discussion as text below.
0:30 - Amanda talks about connecting with her fans and building a fan base.
2:30 - Is social networking required for Indie music success today? Amanda surprises me by saying 'not necessarily'.
4:00 – Twitter stuff: Learn how Twitter can be used to get hundreds of people to a last minute gig. Connecting with Trent Reznor. And what the hell did we do "BT" (before Twitter)?
9:00 – Can social media be used to promote your product if your product sucks?
11:00 – Why the changing nature of music business means that "making it" is so different today. If you are a musician, do you want to do the hard work?
12:30 – What is the role of record labels today and into the future?
17:50 – How Amanda made $11,000 on Twitter in two hours.
21:00 - Then she made $6,000 more a few days later by "selling weird stuff" from her apartment.
Some highlights of the discussion
"Being a touring musician means meeting fans," Amanda says. "I go out and meet fans after every gig. It's important to make contact in real life and not just online in social media like Twitter. If you don't meet fans in real life too, then you're a fraud. If you're not comfortable getting into the sweat with them and talking with people at shows, then how can you do it successfully online? I love connecting with fans. Speaking to people at the merchandise table after the show is great. I can stay there forever."
Amanda frequently uses Twitter to bring together groups of fans quickly and spontaneously when she is on the road. She tweeted a secret gig in LA one morning and about 350 fans showed up five hours later at a warehouse space where she played piano.
How Amanda Palmer made $11,000 on Twitter in two hours
When you have a loyal following on Twitter, it becomes an incredibly powerful tool to accomplish your goals. You can use Twitter to spread an idea, to ask people's opinions, to research a problem, or even to make some money. "The great thing about Twitter is that the minute I started using it, I realized the possibilities are endless," Amanda says. She proved it one Friday night.
"I tweeted as a joke that I was all alone, again, on a Friday night at my computer, like a loser," Amanda says. "Other people started chiming in and we were all losers. One of my friends called it a virtual flash mob and all of a sudden there were a thousand people hanging out and following what was going on, the dialog between the fans. And we started a faux organization called The Losers of Friday Night on their Computers. We started making demands of the government like no tax on vodka, government issued sweatpants, free pizza, anything you could possibly need to be a loser on Friday night at your computer. And it was just really funny. It felt like a little piece of loser anarchy on Twitter."
Amanda set up a hastag (a unique code to find tweets on a particular subject) for the Losers - #LOFNOTC - and the thousands of people communicating made the Loser group the number one trending topic on Twitter at that moment.
As people were communicating, someone suggested the group should make a T-shirt. So without any planning, Palmer said "sure let's do it," and used a Sharpie to make a T-shirt design. Someone suggested the slogan DON'T STAND UP FOR WHAT'S RIGHT, STAY IN FOR WHAT'S WRONG. Palmer's Web marketing company was able to create a quickie site (which went live in just half an hour), and offered the T-shirts for sale at $25 each.
The Losers group bought 200 T-shirts that night and several hundred more were sold the next day (after Palmer blogged about it). The total take made on Twitter over just two hours was $11,000.
Not many people can get a thousand people to gather on a Friday night and fewer still can then sell something to the group like Palmer did. But that's not the real point here. There's no doubt that Twitter is an increasingly important way for people to communicate and organizations are using it in very clever ways to benefit their business and themselves.
Concert photo by Martyn Foster via Flickr