Early today I had an opportunity to visit the Wellington headquarters of the New Zealand Rugby Union (NZRU), at the invitation of David Barton-Ginger who serves as the online manager. The New Zealand Rugby Union is the governing body of rugby in New Zealand, administering all parts of the game in NZ from grass roots, Air New Zealand Cup, Rebel Sport Super 14 and the All Blacks (the national team).
David has a challenge and he would like your help.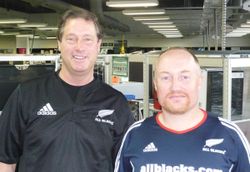 While he has gotten started with social media (see below for details), David is in the middle of a process to convince the managers of NZRU to "lose control" and jump feet first into the swirling waters of social media.
His goals are to inform existing fans from around the world and to bring new fans to the All Blacks who may purchase shirts, caps and other items and may buy tickets to attend games.
David has a big meeting coming up in a few days and he needs to know, from you, why a sports team with fans all over the world should pay close attention to social media.
What in particular should David be doing? Please leave a comment here if you can help.
All Blacks and social media
During the season when the All Blacks are playing, the site gets more than a half million unique visitors per month. Interestingly, 80% of web visitors are from overseas.
David knows that he needs to use social media to reach fans. Several weeks ago he started a Twitter feed @NZRU and an All Blacks Facebook page and he also has a YouTube channel. These are all new initiatives.
David also administers The Direct Line on the All Blacks site. Each month NZRU selects five questions submitted by fans and put them to NZRU CEO Steve Tew to answer via video (which David films). For example, in a recent video Tew gives a brief explanation why players tend to not swap their jerseys on the field after a game anymore.
David has been with the team for five years. Like many people who gravitate to building content-rich Web sites and experimenting with social media, he came to his work by accident. "I was a foreign exchange trader with Westpac and then went to live in London for a few years and worked in banking there too. But I was looking for something more creative. I came back to New Zealand and on a whim attended a Web design course. I really enjoyed it so I started doing some Web project management in the banking industry."
Then the opportunity with the New Zealand Rugby Union came up and David grabbed it. "It was a three-month temporary assignment, but I'm still here after five years," he says.
David says while he is a big All Blacks fan, he tries to put his role first and look at things from a web perspective. He thinks that if he were much more passionate about the team, it would sometimes be more difficult to do his job.
OK, David here's my idea.
I really think you need to play up the Haka more on the site and in social media. I suggest you consider creating a microsite with photos and video of the All Blacks and the Haka. For many new rugby fans, the Haka is the first thing that separates the All Blacks from other teams.
FYI, in case you don't know, the Haka is a traditional war dance of the Maori, the indigenous people of New Zealand. New Zealand's national rugby team, the All Blacks, perform a Haka war chant prior to each match. In the rugby world, the All Blacks performing the Haka is definitely a World Wide Rave. I've seen this at the Hong Kong Rugby Sevens and can confirm that it intimidates the other teams.
Check out the All Blacks version of the Haka here.
How about you?
What would you suggest David does to promote the All Blacks via social media?