In my new video, more than a year in the making, over 100 people from all seven continents contribute to show how people spread ideas and tell stories.
Here is a direct link to the video on YouTube.
How did you do THAT?
New free ebook about how the video was made.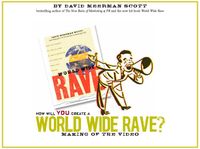 As I was passing around the work-in-progress video that resulted in How will YOU create a World Wide Rave?, everyone had a question about some aspect of it. How did you come up with the name World Wide Rave? The music is cool—what is it? How did you get so many photos and videos from around the world? As I answered each question, I thought back on the more than one year that the video has been in the works and the more than 100 people from all seven continents who contributed to it.
I chronicle the making of the video in a new free ebook that you can download here How Will YOU Create a World Wide Rave? Making of the Video
What's so cool about ideas that spread is that people WANT to share.
Thanks to everybody who contributed. If you'd like to put a banner on your blog, please do! I'd be honored. You can point to this post.
Blog Badge

Video by Your Business Channel
Mark Sinclair, Features Editor, with James Kirk, George Laycock, Jeremy Decoursey, David Chandler, Melanie Sinclair, Georgie Johnson
Sound Branding and Original Music by Audiobrain
Audrey Arbeeny: Executive Producer/ Creative Director
Jason Rothman: Lead Composer
Curtis Macdonald, Mitchell Yoshida and Audrey Arbeeny: Composers
Book, Poster, Website, and E-book design by Eymer Design
Doug Eymer, chief designer & resident genius
Tim Conroy, Production Wizard
World Wide Rave published by John Wiley & Sons, Inc.
Matt Holt, Publisher and Shannon Vargo Editor, with Christine Moore, Kim Dayman, Jessica Campilango, Cynthia Shannon, Peter Knapp, Rose Sullivan, Deborah Schindlar, P.J. Campbell, and Lori Sayde-Mehrtens.
Editorial advice for World Wide Rave Kyle Matthew Oliver
Thank you to the following for their generous support of this project: Mark Fortier, Matt Sitomer, Mark Levy, Phil Myers, and Michelle Manafy.
I would like to thank the more than 100 incredibly generous people from all over the world who took photos, shot video clips, or participated in the photos that are shared with you in the video.
Singapore Management University: Michael Nestley, Ephraim Loy. Teoh Pei Ying, Jonathan Huang, Anirban Datta Gupta, Dorothy Poon, Tina Nirmal, Michelle Kusuma, and Apurva Prasanna
Social Media Breakfast in Minneapolis: Ring leader Graeme Thickens. (The only disappointment was they did not serve chipotle breakfast burritos that day.)
New Media and Public Relations class at Boston University, College of Communication: Professor Steve Quigley.
Women in Business Connection: Shelly Berman-Rubera
Team HubSpot: Mike Volpe, Brian Halligan, Dharmesh Shah, and Ellie Mirman
GoWeb3D Experiences: Dave Elchoness and Rahul Dutta
Ranch Lions and Wild Things, Polokwane, South Africa: Nico Prinsloo, Viv Bristow, and Frank Kasakamula.
Astronaut Scholarship Foundation and the Apollo astronauts: Buzz Aldrin, Dave Scott, Tom Stafford, Charlie Duke, Alan Bean, Jim Lovell, Vance Brand, Ed Mitchell, Al Wordon, Walt Cunningham, and Fred Haise.
Marketing Over Coffee Podcast: With John Wall and Christopher Penn
Pragmatic Marketing: Steve Johnson, Adele Revella, and Graham Joyce
The New York Islanders: Josh Bailey
Fire Station 8, Charlotte, NC: Adrian Cornette and Jason Almond
Dow Jones Enterprise Media Group: Marie Dufresne, Mark Bootherstone, and Fredrik Savin
Erin Weed
Keri Nelson
Brenda Haines
Yuri Afanasov
Chris Brogan
Laura "Pistachio" Fitton
Gary Vaynerchuk
Dr. Helaine Smith
Dianna Huff
Bob Hoey
Tim Washer
Jackie Ann Patterson
Lisa Genova
Paul Teutul Sr.
John Hodgman
Phil Lesh & Friends
Steve Garfield
Seamus Walsh
Debbie Weil
Krishna De
Mark Gladding
Reitaro Watanabe
Sandy Jeschke
Bruno Jarry
John Tatusko
Steve Yastrow
Prakash Dogra (with Leisha and Prakarsh)
Patrick Prothe
Sérgio Bastos
Tobi Singer
Donna St. Jean Conti
Gustavo Alvarado
Dimitris Christofileas
Leo Wurschmidt
Paul Baiguerra
Margarida Godinho
Damian Taubaso
David Martin
Michael Ray Hopkin (and family)
Felix Alvarado
Eugenie Verney (and daughter)
Robert Landreth
Carl-Johan Savin
Jonathan Kranz
Andrew Peters
Ricardo Prieto
Jeff Barry
the Barefoot Hawaiian
Tracy Johnson
Apologies to those I've missed or whose names I have misspelled. My bad. I know I'm bound to screw up a few times. (Let me know if I missed your link and I can change).
A special thank you to our canine friends who posed for photos: Pukko & Bailey
Your challenge:
How will YOU create a World Wide Rave?