Erin Weed, founder of Girls Fight Back!, uses her Web site, MySpace and Facebook groups, blog, and YouTube videos as a way to promote women's safety and self-defense issues.


Erin, a personal safety and self-defense expert who has conducted 500 seminars at schools, colleges, and corporations, started Girls Fight Back in 2001 in response to the tragic murder of Shannon McNamara, her friend and Alpha Phi sorority sister.
Girls Fight Back makes safety education accessible, especially to young women in their teens and twenties, through her education Web site and live seminars conducted all over the United States. She teaches girls and young women why they are their own best protectors, and then shows them how to reduce the risk of violence and fight back if necessary.
Everything Erin does is about spreading the idea that girls can fight back. The organization gives women the inspiration, confidence, and encouragement to fight back.
Amazingly, Erin has trained over a half million girls and women to fight back.
All of the information on the site is free and available to girls all over the world. While the content helps to sell the live seminars Erin conducts at nearly 100 colleges, high schools, corporations, and community groups each year, she is thrilled to be helping many more people than will ever see her live presentations.
"We get emails from people in places like Egypt who love the site because they have no ways to get the information in their own countries," she says. "So even in the places where we don't run seminars, we help empower people."
Get out your mobile phones!
Anywhere from 200 to 1,000 people attend each hour-and-a-half-long seminar. Erin was having a hard time getting the teen and college girls to log on to her website after speaking gigs and paper sign-up forms to gather email addresses for 500 or more girls at a time was impractical.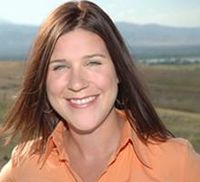 "I realized we had to somehow get to them (as opposed to the other way around)," she says. "So instead I get all the girls to text message me their email addresses from their mobile phones, which automatically load to a web page."
After the event, Erin sends personalized emails to each girl, customized for their school, inviting them to join the Girls Fight Back site to get access to other great resources.
Get this... nearly 100% of the girls volunteer their email addresses. Clearly, Erin's understanding about how girls and young women communicate (with mobile phones) is critical. Yet how many organizations fail to understand this? All I have to do is look in my home mailbox and see all the junk mail that colleges, camps, and the like are sending to my teenage daughter. Attention university marketers: It all goes unread.
Girls Fight Back has garnered significant attention from the mainstream press, with stories about Erin and her program appearing in newspapers (The New York Times, The Washington Post, more than 100 university publications), television (CNN, Fox News), and magazines (Cosmo Girl, Glamour, Marie Claire). The success of Girls Fight Back has helped Erin secure major corporate sponsors for her seminar tours.
Erin shares this advice for all business owners and marketers:
"You have to put your information out there so people see it and know that you're full of great ideas. But business owners are living in fear of having their content stolen on the Web, so they don't put it up. I think as people who are living in a world where we have information to share that can improve people's lives, we need to share. When you share what you know, people will be helped, and that will ultimately come back to you in the form of recognition and business. Why wouldn't I share with someone how to palm strike an attacker in the face when that could clearly save a girl's life?"
Thank you Erin for sharing you inspiring information. A longer version of the Girls Fight Back! story is in my new book World Wide Rave along with stories from 37 other people who have generated a world wide rave.