I received a press release via email a few days ago from a well-meaning PR person.
Guess what? I can't write about it because at the bottom of the release is this:
NOTICE: This electronic mail transmission contains confidential information intended only for the person(s) named. Any use, distribution, copying or disclosure by any other person is strictly prohibited. If you received this transmission in error, please notify the sender by reply e-mail and then destroy the message. Opinions, conclusions, and other information in this message that do not relate to the official business of AGENCY X shall be understood to be neither given nor endorsed by AGENCY X. Before opening any attachments please check them for viruses and defects. When addressed to AGENCY X clients, any information contained in this e-mail is subject to the terms and conditions in the governing client contract.
Yikes! The notice at the bottom of the press release says I cannot distribute the press release. This is what happens when lawyers get in the way of PR.
Or consider this typical press release from Shell that I found on one of the press release wires. Now, I'm not picking on Shell here, I'm making a general point. I could have chosen any one of a thousand releases for this example.
New Shell $aver Card(SM) Available at Shell-Branded Stations Nationwide
HOUSTON, Jan. 5 /PRNewswire/ -- Shell Oil Products US launched the Shell Saver Card today, becoming the first gasoline retailer to make an electronic check payment method available to consumers nationally. This latest Shell payment option provides consumers with a convenient way to pay for purchases with a direct link to a checking account and savings on each gallon of fuel pumped at Shell stations.
The body of the press release has several other paragraphs and contains 361 words. It is a well-written new product release. But then the lawyers get involved and add a 519 word "Disclaimer statement" (sometimes called safe harbor). The legal crap is much more lengthy than the news and includes minute definitions of things that aren't even in the release such as these two sentences:
Forward-looking statements include, among other things, statements concerning the potential exposure of Royal Dutch Shell to market risks and statements expressing management's expectations, beliefs, estimates, forecasts, projections and assumptions. These forward-looking statements are identified by their use of terms and phrases such as "anticipate", "believe", "could", "estimate", "expect", "intend", "may", "plan", "objectives", "outlook", "probably", "project", "will", "seek", "target", "risks", "goals", "should" and similar terms and phrases.
Yikes! By including these statements, the press release says don't believe a word we're saying. This is what happens when lawyers get in the way of PR.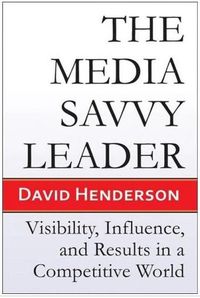 Over the holiday break I read a great book by David Henderson called The Media Savvy Leader. David talks a lot about what he calls "bad habits" around these sorts of disclosures. David says that the legal people include this sort of language so the company can't be accused of lying. That's a terrible strategy if you want journalists to believe you! David suggests: "Always tell the truth and you won't need to hide behind an attorney or safe harbor."
Question to PR people: Have you ever had a lawyer ask you to review a contract in order to remove the jargon and legal gobbledygook? I never have. So why does it happen the other way?
I was fortunate when I was VP of corporate communications for several NASDAQ publicly traded companies (before I escaped the corporate world in 2002). I had an understanding with the lawyers and we only put the safe harbor in the quarterly financial releases, but not the others. I'd recommend that you come to an understanding with your legal department and do the same.
For more on this subject, check out David's book The Media Savvy Leader. It is a terrific book because David has been a success both as a journalist and as a media-relations practitioner. He is an Emmy Award-winning former CBS network news correspondent so he knows what it is like to be a working journalist. And as a media-relations advisor and strategist, he has been responsible for such stunning successes as generating massive national media attention on little Branson, MO. And Henderson knows the online world. He writes a terrific blog and knows how online communications fits into the mix.