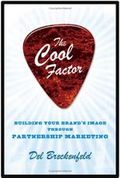 Last week, in partnership with Del Breckenfeld, author of The Cool Factor: Building Your Brands Image through Partnership Marketing, I announced a challenge on my blog: Define "cool" in two sentences or less. Many thanks to all of you who entered. There were some great entries.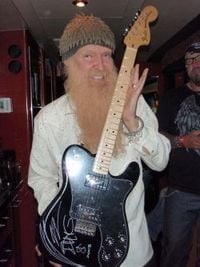 The winner receives an amazing Fender® Classic 72 Telecaster® Deluxe guitar that was used in a concert in front of 40,000 fans and is signed by Billy F. Gibbons.
Congratulations to the winner, Bryan Bliss. You can read Bryan's blog or check out his Twitter page. Brian's entry was:
"Cool is knowing exactly which rules and conventions to bend, having the confidence to try your own way and the strength to succeed. Cool is more than being trendy or fashionable but excelling at inspiration and creativity in a way that invigorates the observers otherwise dreary and uninspired lives."
The winner was chosen by Shannon Vargo of John Wiley & Sons, Inc. the publisher of The Cool Factor (and my latest books). Note that neither Del Breckenfeld nor I had any part in selecting the winner.
In addition to the winner, there are ten runners-up who have been selected to receive a complimentary copy of The Cool Factor as well as the brand new paperback edition of my book The New Rules of Marketing & PR. The runners up are:
Joel Johnson: "Cool is the nudge that gets us to look up from where we are and to imagine ourselves a little closer to who we dream we could be."
Colin Clark: "Cool occurs where brilliance and indifference meet. Cool is the most amazing thing you've ever seen in your life that refuses to acknowledge its own impact."
Gavin Heaton: "Cool cuts a swathe through the mundane yet is unaware of its impact on the world around it."
Paul Dettman: "When you see something that is cool, you instantly become an inch taller and a pound lighter. Cool just makes you feel... great."
Tim Kaschinske: "For me, Cool is a moment in time where everything comes together in such a perfect way that a magnificent experience is created. In those moments, the only possible response is 'Cool!'"
Bobby Lehew: "Cool is a personal metamorphose: when excellence becomes a protest against mediocrity, life becomes a calculated exploit, and success becomes a state of mind; when you live intentionally, love magnanimously, and leave regrettably - you are cool."
Mark R. Hinkle: "Cool is an intangible aesthetic tempered by eccentricity colored by indifference."
Jaculynn Peterson: "Cool is communicating and connecting on a level that transcends languages, cultures, boundaries, barriers, and inhibitions of the heart – just like music."
Jim Benson: "Cool: An event or object of awesome social value."
Jon Mierow: "Cool is being comfortable with who you are no matter who you are with or what you are doing."
Thanks to all who entered. Now we know how to define cool.