I've written about the plague of gobbledygook in business writing for several years now. I first articulated this problem in my Gobbledygook Manifesto, which provided an analysis of gobbledygook in over 388,000 press releases sent in 2006. With the help of Dow Jones we used the Dow Jones Insight product to measure the over-use of phrases like Cutting Edge, Mission Critical, Best-of-Breed, and Next Generation.
People in many organizations are aware of the problem and now actively eliminate gobbledygook. Good for you! However, sadly, ever more industry jargon is being tossed around these days.
In just ten minutes yesterday, I noticed these opening paragraphs from press releases on the wires.
HARTFORD, Conn.--(BUSINESS WIRE)--Sep 15, 2008 - Aetna (NYSE:AET) has been awarded the prestigious "Recognizing Innovation in Multicultural Health Care Award" by the National Committee for Quality Assurance (NCQA) for its prospective randomized study to determine if a telephonic culturally competent disease management program can improve the health of African American members with hypertension. Members in the study who received culturally competent disease management outreach and educational materials achieved a higher percentage of clinically acceptable blood pressure levels, increased their frequency of self blood pressure monitoring, and greater medication compliance when compared to a control group of members who received a light support program.
AUSTIN, Texas, Sept. 15 /PRNewswire/ -- Campus Advantage, a world-class student housing management and development company, today announced its partnerships with the Student Association for Voter Empowerment (SAVE) and HeadCount, a non-partisan organization dedicated to facilitating voter registration and participation through the power of music, to educate students and their advisors about available voting resources.
DALLAS and DUBLIN, Ireland, Sept. 15 /PRNewswire-FirstCall/ -- Trintech
Group Plc (Nasdaq: TTPA), a leading global provider of integrated financial governance, transaction risk management, and compliance solutions, today attended the 2008 Sibos Conference in Vienna to promote its innovative LCM Payments solution developed using Microsoft technology.
Its not just press releases of course. Buzzwords, blather, babble and baloney are everywhere: on government forms, company Web sites, owner manuals, marketing materials and so much more.
Consider these examples, which I randomly gathered in just a few minutes:
University of Virginia Darden School of Business mission statement
U.S. Food and Drug Administration Center for Veterinary Medicine Vision Statement
Gartner Says Users Are Becoming Increasingly Confused About the Issues and Solutions Surrounding Gre
I'll admit that I've fallen victim to using nonsense words myself, particularly in my former life when I was VP marketing at several public technology companies. In my case, the problem emerged because I was so focused on company insiders. Like me (at that time of my career), many people never get off their butt and get out into the marketplace to learn how people really talk so they end up using the language of their own R&D labs, CEOs, and the jargon used in conference rooms and internal meetings.
I've discovered two helpful books for those who want to eliminate the corporate-generated blather in their companies.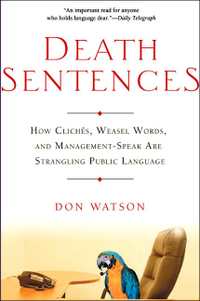 Death Sentences: How Clichés, Weasel Words, and Management-Speak are Strangling Public Language by Don Watson. This is a terrific overview on the problem. Watson served as the Australian prime minister's speechwriter for four years and his take on language is both hysterical and sad. He comes at the issue as someone who knows how to write, but focuses on many things he sees as an ordinary consumer of information in daily life. The book was a bestseller in Australia and is worth a read.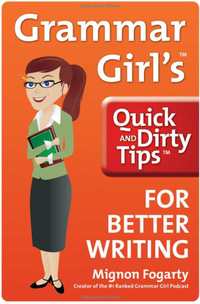 Grammar Girl's Quick and Dirty Tips for Better Writing by Mignon Fogarty. Grammar Girl is known for her popular weekly podcast that helps smart people tackle some of the most common communication mistakes. The book, like the podcast, is about making the process fun. I'm horrible when it comes to things like "who" vs. "whom." I never know if I'm supposed to write "ten" or write "10"? Hell, I have no clue. But Grammar Girl does. Her clear explanations help me to remember some of the rules. However, like plumbing, car repair, landscaping, and many other things in life, I just want to know enough to not make the big mistakes. I still call in the pros when it really matters. My editors and proofreaders are essential for making my books and magazine articles work.
These two books are very different, but get at the same issue. You can't communicate if people don't understand you.
If you're looking for a paradigm shift in your KPIs and need to benchmark your organization against best practice in generating marketing messaging statements these books are NOT for you.
However, if you want to communicate intelligently, these books are worth the investment.