One of the most amazing things about the Web is that when an idea takes off on the Web, it can propel a brand to fame and fortune. Marketers particularly love when this happens to a product without their influence. There's no better way to get your product out there than to have people talking about it via word-of-mouse. Think iPhone. Remember Mentos and Diet Coke Geysers?
I call it a World Wide Rave.
However, when companies don't understand social media or those that hide behind legal eagles and public relations experts frequently get tripped up. Then people talk. A lot. And they say lots of unkind things about your brand.
I call that a World Wide Rant.
Consider the 3M Post-It note debacle. Dozens of blogs have covered this in the past few weeks and I had thought it was common knowledge so I had held off writing about it. However, when I mentioned it in a presentation yesterday, only a tiny percentage of people were aware, so here are the basics:
Scott Ableman and some colleagues strategically placed 14,000 3M Post-It Notes onto a co-worker's Jaguar. The photos they took became a phenomenon with hundreds of thousands of people looking at the photos he posted on Flickr. I have a few below, but you can see them all on Ableman's Flickr page.
Any marketer would be thrilled at this. 3M obviously was, because of what happened next, but instead of celebrating Ableman's cool idea and giving him credit, they messed up.
Ableman writes: "After all the completely free publicity we generated for the folks from 3M Post-Its, they contacted me asking if they could use these photos on their back-to-school store merchandising this summer. When I asked what their budget was, they wrote back and said they didn't want to pay to use the photos. Instead, they copied what we'd done, took their own photos, and used them to create a national marketing campaign. So if you saw this in a store, you saw a copy created by 3M."
According to Melanie Phung in her post 3M Carjacks the Post-It Note Jaguar, the amount of money we're talking is a measly thousand bucks or so.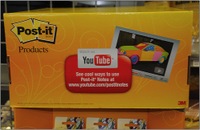 Here is the 3M copycat campaign, again courtesy of Ableman's Flickr page.
Take a look at all the bloggers with negative posts about the 3M behavior. Yikes. I wouldn't want to be a marketer at 3M right now.
Contrast that to what Pete Healy, vice president of marketing for Perfetti Van Melle USA, makers of Mentos did. They immediately linked to the original, famous video with the Mentos and Diet Coke geysers from the official Mentos site. When I spoke with Healey, he told me that he contacted the guys who made the video and offered the company's support. "When they appeared on Late Night with David Letterman and The Today Show, we were there," he says.
You need t be social media aware if you want to propel a World Wide Rave and to prevent a World Wide Rant. Here are some ideas.
David Meerman Scott's Social Media Guidelines:
1. Transparency
–Never pretend to be someone you are not
2. Privacy
–Unless given permission, don't blog about something disclosed to you

3. Disclosure
–Disclose anything people might consider a conflict of interest
4. Truthfulness
–Don't lie
5. Credit
–Give credit to bloggers (and other sources) whose material you have used in your blog
(Number 5 is the one 3M violated).