Readers of this blog know that I am a huge fan of ebooks as a way to show the world that you're smart and worthy of doing business with. Ebooks have potential to spread your ideas far and wide. For free. My own most recent ebook, The New Rules of Viral Marketing: How word-of-mouse spreads your ideas for free, released in early 2008, has been downloaded a remarkable 250,000 times.
E-books have become a very significant medium, partly because people can instantly see the value of a product that looks like for-purchase content but can actually be downloaded for free. In my opinion, e-books should be material people want to read, compared to the dense and usually boring white paper, which our buyers feel they should read but often don't.
Many of the ebooks I've written about in the past such as Healthy Mouth, Healthy Sex are for consumer markets.
For business-to-business companies used to the more traditional white paper, an e-book is a radical departure for one simple yet revolutionary reason: the goal. An e-book is about spreading ideas. But for most companies, a white paper is about generating sales leads.
If you've created and published a white paper for your business before, it's highly likely that you put all sorts of controls over its dissemination. If you offered it online, you probably required readers to fill out a Web form before they could download it. The form required them to supply their name, affiliation, email address, phone number, and perhaps more details like the size of their company. Most companies apply the same "give to get" philosophy to offline white papers, requiring interested readers to supply a business card or fill out a reply form.
An e-book is different, or at least should be. Make the content totally free with no registration requirement at all so people are more likely to download it and share with colleagues.
For example, an e-book called The Taxonomy Folksonomy Cookbook: Finding the Right Recipe for Organizing Enterprise Metadata from Dow Jones Client Solutions, is written for information professionals. It is a creative way to communicate about some complicated concepts like information tagging and metadata use in large organizations.
The ebook has been very popular with the corporate librarian buyer persona - a major target market for Dow Jones Client Solutions - who find the ebook through partner links on Association sites such as the Special Libraries Association, and events such as the Semantic Technology Conference, Taxonomy Boot Camp, Enterprise Search Summit, and KM World.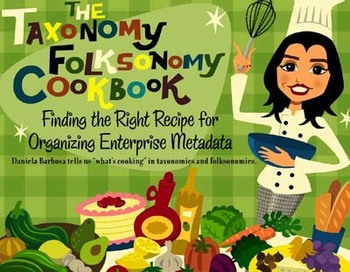 Disclosure: I've done consulting work for Dow Jones and have spoken at many of their events around the world. However, I did not work on the Taxonomy Folksonomy Cookbook.