In the past year, I've had many conversations with CEOs, Presidents of companies, and other senior executives about the new rules of marketing and about blogs in particular.
I've always wondered why these senior executives have so much more trouble creating a popular blog than mere mortals. Why, in most companies, is the most popular blogger a product manager or junior marketing person? At first I had thought it might be because CEOs and executives had less time to devote to blogging or that they relied on underlings to do first drafts of posts. While both of those may be true in some cases, that wasn't enough of an explanation for the relative lack of really good senior executive bloggers in most companies.
Last week, I keynoted the General Catalyst Marketing Summit. GC is a venture capital company (Brightcove, Kayak, HubSpot, and many other interesting startups). In a brilliant move, GC brought together the senior marketing people of more than 30 of their portfolio companies for a day of discussions and best practice sharing. Todd Defren also spoke at the summit, and talked about the difference between "Influence 1.0" (shouting about your product) and what he calls "Participation is Marketing." Todd is an excellent speaker and I was honored to share the stage with him. We were saying the same things but in different ways.
So with Todd's help, it finally became obvious to me why most CEOs and corporate executives make poor bloggers. CEOs are used to being the most important person in the room. When CEOs are in a meeting, everyone defers to them. At conferences, people clap at CEO speeches even if they suck. CEOs talk about their company, its products, and nothing else. CEOs happily ignore email and phone calls because nobody expects a personal answer back. CEOs direct others to do their work for them.
These are precisely the things that make for crappy blogs.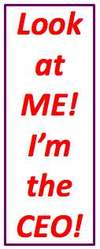 CEOs and executives expect that the world will stop everything and pay attention and The Wall Street Journal will write about them as soon as they put out their first blog post. The posts they do write shout: "look at me!" CEOs don't comment on other people's blogs or link outside their own little world. Yeah, a few ass kissers might comment but unless the CEO is saying something interesting, the blog will fail to gain traction. Then the executive will quit blogging.
There are notable exceptions like Jonathan Schwartz, CEO of Sun Microsystems.
Great bloggers participate. They link to other bloggers. They comment on other people's blog real estate. They blog because they want to, not because they have to. They talk about things other than their own products and services.
Attention corporate executives: check your ego at the door if you want to be a successful blogger.