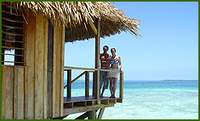 Nearly a year ago (February 4, 2007 to be exact), I planned, booked, and paid for a vacation for my family this holiday season to Belize. My daughter, a freshman in high school, has very limited availability due to the school calendar and her competitive swim schedule (she trains every day for 10 months a year), so we have severely limited windows of opportunity for vacations. The only time this trip would work was from December 20 through December 31 and we always book early and suck up the high prices to travel in peak season. We found an amazing place to stay and booked air travel on Delta Airlines.
Then disaster struck.
We got a message from Delta Airlines on October 21 telling us "your itinerary has changed" and we were now on a flight departing on December 24 (four days later). Since that meant the holiday was reduced by four days, it wouldn't work for us. Yikes! I called Delta and we were told they canceled our flights and the others were all full until four days later. Delta essentially said "sorry you lose."
We were disappointed but had no choice but to cancel completely. Because Delta (who took our money for six months) didn't tell us until a few months prior to departure, we couldn't find another flight schedule that worked based on our limited window of opportunity.
OK, so far, it's just bad luck. Then the situation deteriorated to the ridiculous:

Today we got a message from "Delta Messenger" with the subject line Make your trip easier.
Looking for ways to make your holiday travel easier? Here are a few time-saving holiday travel tips to get you from home base to dinner plate as quickly as possible:
> Arrive three hours prior to your scheduled departure time. Remember, parking and getting through security may take longer than expected.
> Know the airport security guidelines and remember to pack your 3-ounce containers of liquids in a single quart-size, clear plastic, zip-top bag before arriving at the airport.
> Review useful resources for finding out what you need to know, new passport requirements and which forms you need to get and where to get them.
Happy Travels (and Holidays)!
Want to know what the weather is like in Belize City, Belize?
Thanks for choosing Delta; we're looking forward to seeing you.

Attention Delta – you screwed up my family vacation and now you want to wish me happy travels and tell what the weather is like in Belize? This is absurd! I'm sitting in a snow bound place wishing I could go where you promised and then you say I can't go and now you want to wish me "Happy Travels" and remind me about the warm weather that I can't experience?
Do you really have to rub it in?
This is a great illustration of a stupid email system. When a reservation is canceled, it should also remove the automatic email reminders. Otherwise you piss off people like me.
We ended up booking a new vacation during a school holiday week later in the year. But this time it is on JetBlue, not Delta...