Oh jeez, not another flexible, scalable, groundbreaking, industry-standard, cutting-edge product from a market-leading, well positioned company! Ugh. I think I'm gonna puke!
Just like with a teenager's use of annoying catch phrases, I notice the same words cropping up again and again in Web sites and news releases—so much so that the gobbledygook grates against my nerves and many other people's, too. Well, duh. Like, companies just totally don't communicate very well, you know?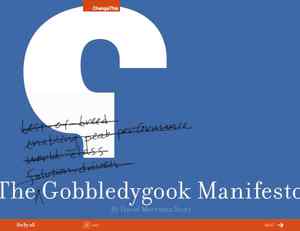 Alert readers of this blog and my book The New Rules of Marketing & PR will recall that in late 2006 I created The Gobbledygook Manifesto to analyze the enormous number of meaningless phrases that appear in corporate marketing and PR materials. You know what I mean (and like me, you may occasionally be guilty of writing like this: "Company X is a leader in providing flexible, scalable, mission critical solutions for improving business process using cutting edge, next generation technology").
If you haven't read the original analysis, I recommend you check out this recently published version: The Gobbledygook Manifesto by David Meerman Scott.
I wanted to see if there were any differences to the data in another time period. So with Dow Jones Factiva, we did another analysis for recent nine-month period. The original analysis was from January 1, 2006 through September 30, 2006 and the new analysis from November 1, 2006, to July 31, 2007.
The analysis by Factiva uses text mining tools to analyze news releases distributed by the major news release distribution services such as Business Wire, Marketwire, PrimeNewswire, and PR Newswire sent by companies in North America (a separate analysis was also conducted for Europe). For the revised analysis, Factiva analyzed each release in its database that had been sent to one of the North American news release wires it distributes for the period from November 1, 2006, to July 31, 2007.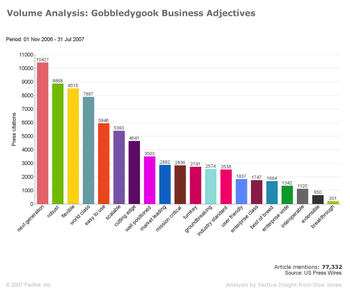 Gobbledygook Analysis for North America. Click chart for larger image.
It turns out there were more releases sent during the period. A lot more. In the first analysis (Jan 2006 through Sept 2006), 388,000 press releases were sent in North America while in the new period (Nov 2006 thru July 2007) 440,500 releases were sent. Good news for the press release distribution companies! I'd like to think that I've played a role in goosing the number of releases because more than 250,000 people have downloaded my ebook The New Rules of PR: How to create a press release strategy for reaching buyers directly.
The percentage of releases containing at least one of the gobbledygook phrases went down slightly, from 19% to 17.5%. Clearly these phrases are still overused.
The words mentioned most often were similar to last year's analysis. In North America – next generation (10,427 mentions), robust (8868 mentions), flexible (8515 mentions), and world class (7887 mentions) were the leaders.
The words mentioned in Europe were virtually identical in their frequency compared to North America.