A common mistake with Web marketing programs is that people are so busy marketing and communicating and being "on message" that they forget to just ask for the damn order! It's silly. Many companies spend thousands (or millions) of dollars on some slick online marketing campaign to convince people of something but they forget to make it easy for people to buy the product.
For several years I have maintained a simple email newsletter. I only send out six issues a year and it is primarily designed for people who don't read my blog. If you are reading this, the email newsletter is NOT for you... I had been using the Microsoft List Builder Service to send it out.
Last week I got a message: "Microsoft retiring List Builder Service."
Effective 12:00 noon PDT on June 1st 2007 Microsoft will retire its List Builder service. To help you transition away from the service, we are giving you free service for a limited period of time, and providing instructions for exporting your subscriber data and saving your campaign reports. Please read below for more details including when you will see changes.
We understand how important keeping in touch with your subscribers is, whether they are customers or other interest groups with whom you communicate. To continue serving your subscribers with newsletters and other customer communications, we invite you to learn how you can sign up for e-mail marketing services with Constant Contact.
Yikes. How I hate to change things like online marketing tools.
Since I am pressed for time and I was already familiar with Constant Contact, I decided to just sign up for the service through the link provided. I didn't need to be convinced. The deal was already done based on the email from Microsoft.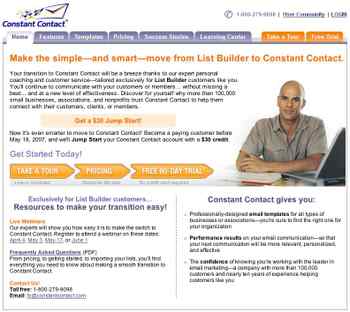 Unbelievably, I couldn't buy the Constant Contact product! They didn't want me to become a customer! Wow!
There were three options on the landing page TAKE A TOUR and PRICING and FREE 60-DAY TRIAL (which basically sucks because you can only send to 100 names).
Come on guys, what about BUY NOW!
Nope, it wasn't there.
I called the toll free number and signed up right way, but the experience was very frustrating. The person I spoke with was friendly and knowledgeable but I just wanted it to be a simple one-step process and all online.
As you are developing your own online programs, don't forget to ask for the order and make it easy for people to buy.
Hey, as long as I'm on the subject, are you ready to pre order a copy of my new book? The New Rules of Marketing and PR: How to use news releases, blogs, podcasts, viral marketing and online media to reach your buyers directly is available on Amazon. Pre-order now from this link and it will ship to you in late May.
(There I asked for the order).