Yesterday at the SIIA Information Industry Summit I moderated an absolutely killer panel discussion formally titled Advertising and PR for Everyone: Who is Winning the Race for Marketing Dollars?


We discussed what the panelists called "Brand Journalism" which is exactly what I've been talking about for years – most recently what I refer to as The New Rules of Marketing and PR – the idea that smart organizations of all types publish content on the Web to reach buyers directly.
My two fantastic panelists were:


Colleen DeCourcy, Chief Experience Officer of JWT (a WPP Group agency). JWT is the largest advertising agency in the US and works with organizations like Jet Blue, Nestle, Shell, Pfizer, and the USMC.

Ben Edwards, Director, New Media Communications at IBM. I have been familiar with Ben's work from when he was Tokyo Bureau Chief of The Economist. I lived in Tokyo for 7 years and for most of that time was Asia Marketing Director for an electronic news division of Knight-Ridder.
Unfortunately, Manning Field, SVP Branding & Advertising for Chase Card Services was a no show. Too bad, he missed a great discussion.


You can watch the entire discussion on video via Scribe Media.
Donna Bogatin covered it on ZD Net. Favorite Donna quote: "'Users are in control' packs the same mythical punch as 'every vote counts'." (I agree, Donna!)
Several people blogged it:
John Blossom, Shore Communications, captured a great deal of notes from the panel. Favorite quote from John Blossom: "This is THE trend to watch in media." (I agree, John!)
The always thoughtful Ken Doctor has a different take: "Call it what you want, but "brand journalism" isn't journalism. It's public relations, customer connection, engagement -- whatever you want to call it -- on the new steroidal Intel chips. And it can produce good stuff that's useful to us as buyers of goods and services. But it's not journalism." (Let's do a crossfire at a conference sometime, Ken!)
Favorite quote from Barry Graubart "Storytelling becomes much more important in this new environment." (I agree, Barry!)

Colleen DeCourcy and her colleagues at JWT worked with Ford Motor Company to create the information portal called Ford Bold Moves, which documents the future of Ford. Includes Ford-produced video and user comments. Ford is really putting themselves out there by letting people talk about them on a Ford-generated Web site.
Ben Edwards detailed the remarkable corporate publishing efforts at IBM and explained the very open and permissible environment for self-publishing, available to any employee (over 380,000) worldwide. IBM provides blogging tools to their employees and has 3000 or more employee bloggers. (Wow!) Ben's role is to help market those blogs so the audience can find what they need more easily.
IBM distributes more than 300 RSS feeds which they use their buyers directly. They also offers podcasts, for example, 10 minutes from their top IP attorney.

IBM has even developed content for Youtube - for example, this Art of the Sale series of mockumentaries.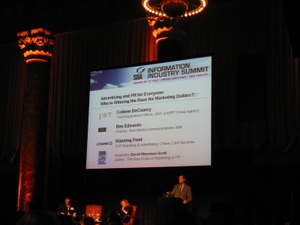 These are people who truly understand how to use content to drive action. They know that when people visit your company's Web site, they aren't there to hear your slogan or see your logo again. They want information, interaction, and choice—and you'd be a fool not to give it to them. Smart marketers who want to communicate with buyers directly, raise their company's online visibility, and increase sales need to put the new rules to work.
Please watch the video or read the ZDNet and blogger reports for much more on this remarkable discussion. Thanks Ben and Colleen for participating.
Here are some of the questions I had prepared for the panel but that I did not get to ask:
> What is different about corporate publishing vs. traditional advertising?
> How is advertising on social media sites like MySpace different from broadcast & print?
> How to determine audiences for the content? Segmentation by buyers?
> What is the role of "Storytelling"?
> What do you see happening in Second life?
> How do you measure results? Metrics?
> Is the traditional media model based on brand advertising sustainable as a high-margin business?
What do you think? Is Brand Journalism going to catch on?