Yesterday was the second monthly meeting of the Social Media Club Boston. You could say it was the Todd and Todd show— Todd Van Hoosear of Topaz Partners hosted the event in his famously engaging style and the guest speaker was Todd Defren, Principal of Shift Communications. I had gotten to know Todd squared over the past few years, so was looking forward to the evening.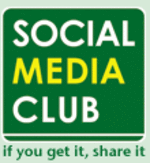 The Social Media Club is the place where people come together to discuss the new world of social media. The idea is "if you get it, share it." I've gotten a lot out of the club so a few months ago I kicked in my dollars as a co-founder. Anyone who is involved in social media should join. There are a dozen chapters in three countries—not bad since the club was formed in August 2006. Howard Greenstein was at yesterdays meeting which was held in the Network World conference room. He's one of the driving forces behind the club.
Todd Defren talked about his groundbreaking social media press release. The template was launched in early 2006 to make it easy to for people to remember all the various tags and other features (such as associated photos and audio feeds) of a well executed news release.
A few months ago, I interviewed Defren for my newest book The New Rules of Marketing and PR (coming in June 2007 in hardcover from Wiley). "All news release content will ultimately wind up on the Web," he says. "So why not put it out in such a way that makes it accessible to anybody who can use that content? Both traditional and new media journalists are used to working in a hyperlinked environment and are used to people providing context through social bookmarking sites such as del.icio.us and buttons to add to DIGG. The template makes it easy to remember to do all of those things."
Defren's template is an excellent tool to use as you develop your news releases because it helps you get the most out of all the available features that can make the release more useful and easier to find.
At the club meeting, Defren outlined the goals for the social media press release template:
> Democratize access
> Make news release available to anyone who wants to read it
> Embrace accuracy
> Embrace context through social bookmarking and tagging
> Build community via blog conversations of the release
> Be findable
Basically every news release becomes a mini Web site.
But I would take the template further to say that news releases are NOT just for the press! Buyers are reading news releases and you need to write them to reach buyers. Google News, Yahoo News, vertical market sites and RSS feeds all deliver news releases to consumers. The template helps to identify the things that BUYERS want to see as well and that should be the focus. In my opinion journalists are secondary. Radical? Maybe.
So I think the social media press release needs one more component—search terms. Communicators should be thinking of the search terms that their buyers use and add them as appropriate to the release. Todd, consider adding a new box in your template that reminds people to identify search terms. Remember, a news release is for reaching all of your constituents directly, not just the media and many people find a release on the search engines.