The New Rules of PR – a new and updated edition of the ebook for 2007 with a forward and newsmaker tips by David McInnis, founder & CEO of PRWeb, a Vocus Company.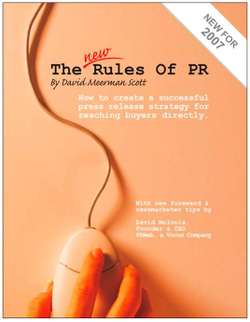 When I first released my ebook The new rules of PR: How to create a press release strategy for reaching buyers directly by posting it on my site and my blog and sending a press release out about it in mid-January 2006, I thought I might get a few thousand downloads. Imagine my surprise when the ebook was downloaded more than 15,000 times in just the first week!
Since then, I have been happily watching the wave of interest from this effort and am amazed by the metrics:
> When I first put it out, there was precisely one hit on Google for the exact phrase "new rules of pr." The last time I checked there were over 9,000 Google hits because hundreds of bloggers and online media outlets have written about the ebook and thousands of readers have commented on my blog and others.
> As I write this, it is nearly a year since the release of the first edition and more than 150,000 people have downloaded it (so far).
> An expanded hardcover edition The New Rules of Marketing and PR: How to use news releases, blogs, podcasts, viral marketing and online media to reach your buyers directly is due out in June 2007 from Wiley (you can pre-order the book on Amazon now).

David McInnis, founder & CEO of PRWeb, a Vocus Company, was among the very first people to download the ebook, write about it on his blog, and help push the viral marketing buzz. David suggested doing a second edition of the ebook and I am pleased that he has not only written a forward for it, but also contributed a series of newsmaker tips. David and the team at PRWeb have pioneered social media tools for press releases such as tagging and trackbacks, so he is the ideal person to put his stamp on this new and improved edition.
Download your complimentary copy of the second edition of The New Rules of PR now.
A press release about the new edition of the ebook went out today. (Hey this is an ebook about using press releases to reach buyers directly, so you should at least check out the press release about it, don't you think!)
If you read the first edition, welcome back! If you are reading The New Rules of PR for the first time, prepare to learn about a new way to get your organization noticed on the Web.