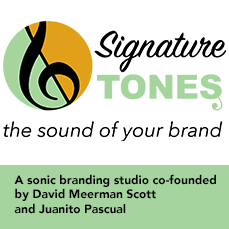 I co-founded Signature Tones, a sonic branding studio, and I wanted you to be among the first to know about it. It's crazy exciting to establish a business that combines my marketing geekdom with my massive passion for music. Sonic branding is a wide open and little understood aspect of marketing that has fascinated me for more than a decade. I started the company with my friend Juanito Pascual, a Santa Monica - based touring musician and recording artist.
Juanito is an incredibly skilled musician and composer. He regularly performs around the world with his own band and has several successful CDs. While at college at New England Conservatory of Music in Boston, it became clear to him that composition was a central part of his musical expression. Besides his corporate work with Signature Tones, Juanito composes for film and TV, capturing the essence of the scene, character, or plot in his music. He appeared in "Pink Panther 2" with Steve Martin, and most recently performed on the score of "Call Me Francesco" (Netflix) and on the Viceland program of "State of Undress."
Music nerds must immediately check out Juanito's band doing Scarlet Begonias from the Grateful Dead played in Flamenco Style.
Sonic Branding
Signature Tones: The Sound of your Brand from David Meerman Scott on Vimeo.
Elements of sonic branding we create for clients include sonic logos of a few easily remembered musical notes as well as entire custom composed songs to capture the essence of an organization or product.
While most marketers understand visual branding with logos and images as well as branding using the written word, very few understand that it is possible to create (and own the rights to) your own sounds that align perfectly with your brand attributes.
Examples of well known sonic logos include the Skype Ringtone, Apple startup chime, NBC logo, and Intel Inside Leap Ahead.
We create similar sounds for our clients such as this Signature Tones sonic logo.
Few marketers use sound in their marketing programs. And of those who do use sound, nearly all purchase stock music that is by definition not exclusive to them.
Commissioning a sonic logo is surprisingly affordable and can be accomplished on nearly any marketing budget. I see custom compositions as a wide-open opportunity to create a memorable organization or product offering because very few entrepreneurs and marketers are using customized sonic branding today.
Own your own song for unique branding
"Building a Brilliant Tomorrow" by Signature Tones for Inovateus Solar from David Meerman Scott on Vimeo.
Juanito and I also work with clients to create memorable music that companies own and use in many ways such as theme music for podcasts, background music in videos, in TV and radio commercials, at trade show booths, within software products, and as part of online learning programs.
For example, we recently developed both a sonic logo and an original song titled Building A Brilliant Tomorrow for Inovateus Solar, a leading solar development and supply company that works on large-scale projects as well as supplies residential installers.
For Inovateus Solar, we developed an awesome reggae-infused song that works great with the Inovateus brand.
"Our original music is my new favorite song!," says T.J. Kanczuzewski, President, Inovateus Solar "It's really an awesome tune that anyone will dig and captures the spirit of the Inovateus Solar brand. The Signature Tones process has been great. David and Juanito have a cool thing going and we are glad to be a part of it."
Signature Tones: The Sound of Your Brand
Our work at Signature Tones starts with a deep understanding of your organizational goals, current marketing and branding efforts, and aspirations for the future. We take this knowledge to the studio to create a unique sonic logo and song especially for you.
In our experience sonic branding is a cost effective way to assert personality into an organization.
Please contact me if you want to learn more about sonic branding for your organization.