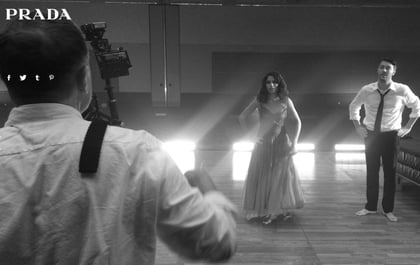 Italian luxury fashion house Prada recently released a short film titled Past Forward The 18-minute film is most definitely big-budget Hollywood, a collaboration between Miuccia Prada and writer/director David O. Russell, acclaimed for his films such as American Hustle, The Fighter, and Silver Linings Playbook. It is content marketing for when you have millions in the budget. Watch the film here.
Russell imagined Past Forward as a "cinema poem," a surreal, futuristic silent dreamscape with multiple actors replaying scenes in shifting combinations. The result is an unreliable story, a parallax view wherein the scenarios, characters, costumes, genres, and endings, repeat and morph, refusing the logic of conventional narrative. Russell creates characters as elements of a complex collage, the viewer is left to decode what is experience, what is memory, what is dream, and discern the overlap and differences between them.
The cast includes stars Freida Pinto, Allison Williams, and newcomer Kuoth Wiel — who act out parallel stories, set in a dreamlike, black-and-white world. Also featured are Connie Britton, Sacha Baron Cohen, and John Krasinski, among others.
"Mrs. Prada offered me the chance to make a cinema piece, like a dream, fueled by strange mystery, suspense, fear, danger, beauty, conflict, romance, love, identity, and time," Russell says. "Here was the opportunity to make a journey of cinema guided by layers of movie memories, life images and emotions, with no aim except to create art — as if it were a painting or a sculpture — free from normal narrative or audience expectations. The cast and I worked simply for the joy of making art."
What can a brand expect when they invest in content marketing as art?
The film was premiered at Prada's spring 2017 show in Milan with an event featuring simultaneous screenings in Tokyo, Shanghai, Berlin, London, Milan, Paris, Moscow, Istanbul, and Sydney following.
A Google search shows that mainstream media outlets like The New York Times and Variety wrote about the film as did many independent film and fashion blogs. Past Forward is on the Prada site so we can't tell how many views it has gotten.
For the right brand with the dough to do it, this kind of film might jump start an online content initiative.
Sidebar: One of my weird hobbies is to work as a "background actor" in feature films shot in the Boston area. I had a role in American Hustle where I played an FBI Agent working that day in scenes with Amy Adams, Bradley Cooper, and Louis C.K. It was amazing to be directed by David O. Russell. I can report that Russell operates very much in the moment, drawing on what is nearby and interests him.