This week marks the tenth anniversary of Twitter founder @Jack Dorsey writing just setting up my twttr to kick of the social media site.
The number of Twitter users grew relatively slowly at first. Geeks like me learned about Twitter at SXSW and signed on early, but in the beginning it was mainly the tech savvy talking to one another about tech.
Here are some of my favorite epic tweets that signaled growth spurts in the social network. Many of these tweets became well known and were talked about in mainstream media and helped to get more users to sign up.
23 August 2008 - Obama Chooses Biden as Running Mate
Throughout the 2008 US Presidential election cycle, the Barack Obama campaign used social media in very skillful ways.
My favorite moment was several weeks before the Democratic National Convention, when it came time to announce the choice of Joe Biden as Obama's running mate. The news media was buzzing with anticipation. Who would he choose? Speculation was rampant.
Announcing Senator Joe Biden as our VP nominee. Watch the first Obama-Biden rally live at 3pm ET on http://BarackObama.com

— Barack Obama (@BarackObama) August 23, 2008
Rather than make the announcement in the traditional way by sending a press release or giving a speech that news outlets would cover, the candidate announced on Twitter and their text message platform first.
This tweet dramatically showed the importance of an official Twitter feed to disseminate information to reporters and the public and led directly to the techniques used by @realdonaldtrump to lead the Republican primary candidates today.
(This tweet was way before the re-tweet and like buttons were implemented on Twitter so the social shares are meaningless).
15 January 2009 – Photo of US Airways Plane in the Hudson River
When US Airways Flight 1549 suffered multiple bird strikes after takeoff from New York City's LaGuardia Airport resulting in both engines failing, Captain Chesley B. "Sully" Sullenberger and First Officer Jeffrey Skiles executed an unpowered emergency landing into the Hudson River.
The dramatic first photo of the plane was captured by Janis Krums and shared on Twitter. Mainstream media picked up the photo and ran it around the world.
http://twitpic.com/135xa - There's a plane in the Hudson. I'm on the ferry going to pick up the people. Crazy.

— Janis Krums (@jkrums) January 15, 2009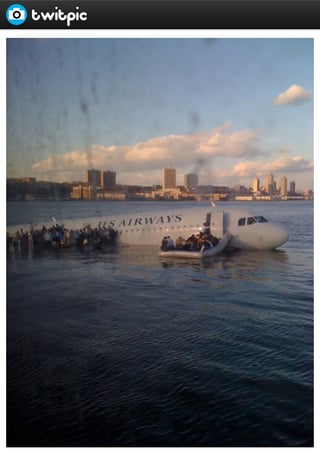 This marked the rise of "citizen journalists" capturing real-time news with their smartphones.
(This tweet required a third party plug-in for the photo because it was before the photo feature was built into Twitter and was also before the re-tweet and like buttons).
2 July 2011- President Obama's Twitter Town Hall
Okay, I'm obviously biased on this one!
At the time, I thought it was fascinating that the President chose to take questions from citizens via Twitter for a Town Hall meeting. The President would be at the White House and Twitter CEO Jack Dorsey would ask a series of questions posed via the hashtag #AskObama.
#AskObama Tech & knowledge industries are thriving, yet jobs discussion always centers on manufacturing. Why not be realistic about jobs?

— David Meerman Scott (@dmscott) July 2, 2011
What a cool use of Twitter I thought at the time, so I asked a question (as did over a hundred thousand other people). I promptly forgot about it until a few days later during the live event when my daughter's friend texted her as Obama was answering my question! I missed it live (rats!) but it was cool to see on the replay and the answer to me via the @WhiteHouse twiter feed.
Obama on tech vs manufacturing for recovery: not either/or, need tech for innovation, manufacturing to make the innovations...

— The White House (@WhiteHouse) July 6, 2011
This event was an early example of bringing together a large number of people who were connected on Twitter to a live event.
3 February 2013 – The Oreo Super Bowl Newsjacking Tweet
I have a love hate relationship with this tweet(!)
Yes, it is really cool that one tweet showcased the ideas I had been talking about for years: Real-time communications and newsjacking. All of a sudden, the marketing world was exposed to what readers of this blog had known for a long time.
Power out? No problem. pic.twitter.com/dnQ7pOgC

— Oreo Cookie (@Oreo) February 4, 2013
But I hate that stupid tweet because way too many people now believe that newsjacking and real-time marketing is only about a known event. They think that it's all about advance planning for some fixed point in time.
NO!!
You and I are much more interested in the power of harnessing serendipity (happy accidents) than sitting around with thousands of bored advertising agency people waiting for a moment at the Grammys or World Cup or Oscars to spend clients' money on.
The good news is we're all on top of the real-time world while they are waiting for the next planned event. We've got the advantage because we understand the power of serendipity and the real-time mindset.
3 March 2014 - Ellen DeGeneres Academy Awards Selfie
Partly as a result of the most re-tweeted photo ever, billions of people around the world now regularly take and post selfies.
If only Bradley's arm was longer. Best photo ever. #oscars pic.twitter.com/C9U5NOtGap

— Ellen DeGeneres (@TheEllenShow) March 3, 2014
I love selfies! But yeah, they are kind of annoying. We can thank Ellen for that.
6 June 2014 – The CIA Joins Twitter
This is my favorite tweet of all time. It captures more than an entire New Yorker article could about the nature of real time communications.
When one of the most secretive organizations in the world joins the most public social network in the world and kicks off their feed with a hysterically self deprecating poke at themselves, it makes me cheer for all things good about humanity!
We can neither confirm nor deny that this is our first tweet.

— CIA (@CIA) June 6, 2014
This one tweet did more to humanize the CIA than all the 68 years of its history combined. If you haven't done so before, check out the @CIA feed. It's magical.
I use this tweet in every one of my speeches to illustrate that any organization can get real-time.
Heck, if the CIA can do it, what's your excuse?