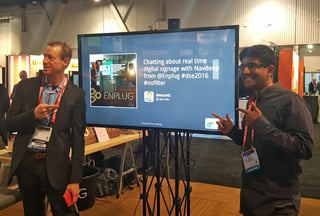 This morning I delivered the keynote speech at the Digital Signage Expo in the Las Vegas Convention Center. The digital signage industry is at the forefront of real-time offline marketing because businesses using the latest digital signs have the ability to change displays at a moment's notice. Marketers can reach people by leveraging what's going on in social media and the news of the day and showcasing their products in context via digital signs.
Leading up to the event, I was mega-excited because this business is a real-time one and I've been in the real-time world my entire career. I'm fascinated with ways that businesses can integrate offline marketing with real-time online marketing.
Last month, in my post about the U.S. Presidential Primaries in New Hampshire, I wrote about how integration of online and offline marketing will be the next frontier in U.S. presidential campaign marketing. Although candidates were not doing it, I thought it would be great to have a #hashtag for each campaign event where people could share what they were seeing live on Twitter. A staffer could live tweet what the candidate was saying and post photos ready for a re-tweet to the hashtag. And there could be a digital sign with the feed in the room for all to see which would then encourage more social interaction. The cost of this staffer and the digital signage technology for the entire campaign would be less than just one of the dozens of television commercials that the candidates have been running. Seems like a good investment to me.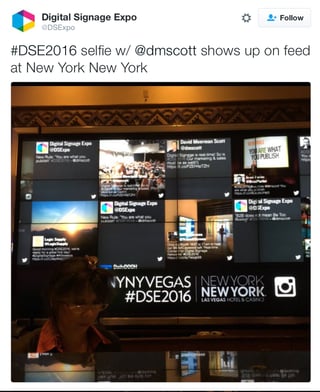 Here at the Digital Signage Expo I had some real-time fun when I tweeted live during my talk several times using the event hashtag #DSE2016. Of course, many other people were tweeting too. The real-time feed was being displayed down the street on the Las Vegas strip on a digital sign at the New York - New York Hotel & Casino. Somebody took a photo of that digital sign and then it was tweeted out on the show Twitter feed. That image was then displayed on the screen as I finished up my talk. How meta!
Live on Digital Displays
While walking the show floor after my talk, I met Navdeep Reddy who is CIO at Enplug, a company that makes a simple device that connects to HD displays. Using the device and the Enplug SaaS application, companies can configure content and settings to automatically send real-time content to their digital displays.
In another meta moment, I sent a photo of me with Navdeep to my Instagram and watched as it immediately appeared on the digital sign in the Enplug booth.
The Enplug technology can be fully automatic (all content of a certain type is sent), semi automatic (it can manage exceptions such as if someone writes the F-bomb), or it can be manual, (with staffers choosing what gets posted).
There are many uses of digital signage technology that companies like Enplug offer. Here are a few:
-- A hotel could have signs at the property with such things as guest photos tagged with the location's hashtag, menu specials for that evening, the entertainment happening, and hotel reviews from sites like Trip Advisor.
-- A retailer could have a social media wall with live updates that in turn encourage others to post their own thoughts.
-- A university could have the time and location of guest lectures and concerts together with real-time updates of the scores of sporting events.
-- And of course, physical conferences have a great opportunity to use digital signage technology. Unlike most events where the organizers toss out a hashtag and that's it, companies like Cisco build virtual aspects into the entire event to enhance attendees' experience. At the Cisco Partner Velocity event I spoke at several years ago I particularly liked the real-time social dashboard which shows tweets using the event hashtag in real-time, images of attendees photos, and a leaderboard of the most active people. There was also a graph of the number of tweets and sentiment analysis (positive vs negative tweets). Great stuff.
The integration of offline to online as well as online to offline is a fascinating new frontier for marketers and digital signage is a great way to implement new ways to reach buyers with valuable information they will appreciate.
Disclosure: I was paid to speak at DSE. However this post is written simply because I am excited about the marketing possibilities of digital signage.