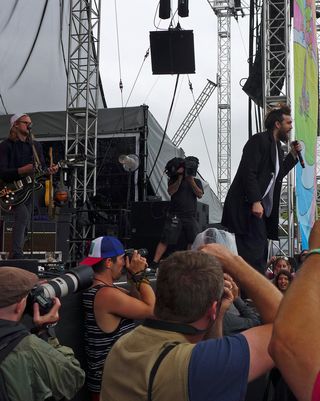 I had a blast this weekend at Gathering of the Vibes - excellent music with a crowd of friendly and laid back music fans at the best-organized festival I've been to.
I spent a lot of time in the photo pit and got to thinking about how photography has changed over the years.
As I watched the pros shoot (and I joined in with some lame attempts of my own) I realized there are lessons from the photographers to those of us in the sales and marketing worlds.
I was especially intrigued by my discussion with Scott Harris who told me that he has a focus on real-time photography. Scott is a House Photographer at the historic Capitol Theater in Port Chester, NY and also photographs events at other NYC venues.
Real-time photography
Scott shoots with the typical big rig digital SLR camera and uses Wi-Fi to send the best images instantly to his smartphone. Then he quickly edits a photo and uploads it with a caption so music fans can see images of their favorite bands just one or two songs into the set.
The importance of real-time played out Saturday night (actually Sunday morning) at Vibes when music fans around the world were excited to see Grateful Dead drummers Mickey Hart and Billy Kreutzmann playing in their first announced gig with the Disco Biscuits. At about 1:00 am, they hit the stage and a soon photos were uploaded for people to see no matter where they are: at the gig, at home, in a bar, at another show.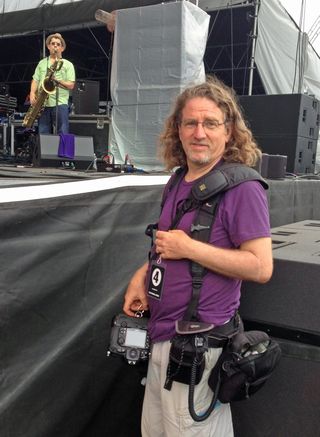 What a huge difference from film days. When people like my friend Jay Blakesberg got started in the pre-digital days, the necessity of processing film meant photos typically took days to appear.
Some daily newspapers were able to run photos in reviews in the next day's paper, but that meant the photographer had to hightail it back to the newspaper office from the venue after shooting a song or two to process film in time to make deadline.
While not real-time, I posted a few Gathering of the Vibes photos and videos to my Instagram, Vine, and Twitter accounts, but I usually wait until the next morning so I can enjoy the music rather than fiddle with technology.
Real-time has changed every business
Think about the difference between running back to the news bureau to process black & white film in order to make a print newspaper publishing deadline compared to shooting, editing, and uploading a high quality color image before the first song even finishes.
Those same dynamics are at work in your business. Real-time has changed every business (including yours).
Gathering of the Vibes photos 1) Edward Sharpe and the Magnetic Zeros lead vocalist Alex Ebert attracting long lenses 2) Jay Blakesberg in the pit and 3) Grateful Dead drummers Mickey Hart and Billy Kreutzmann playing with the Disco Biscuits all by David Meerman Scott at Gathering of the Vibes 2014.