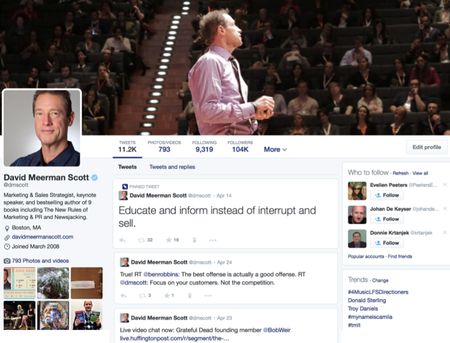 Twitter began offering a new way to showcase your personal brand. They are rolling it out selectively so if you haven't been able to implement the new format, I'm told it should be available to you very soon.
It seems Facebook has gotten more like Twitter, with timelines and real time updates. Now, with this change, Twitter is getting more like Facebook, making it easier for you to showcase who you are on your Twitter page, especially with the big new header image.
Most Twitter profiles don't say enough and most have lousy design. While that's fine if you're just communicating with friends, if you're using your Twitter feed for your business, you need to pay attention. With the new profile, now is a good time to focus on yours if you haven't already done so. Here's my new @dmscott profile.
Your bio and other details are now at the left rather than the top center.
As I write this, my bio is "Marketing & Sales Strategist, keynote speaker, and bestselling author of 9 books including The New Rules of Marketing & PR and Newsjacking." As a component of personal branding, this is a critical section. I prefer not to make it a 160-character resume from a laundry list of attributes like this: "father, husband, surfer, economics major, world traveler, marketer, and rock star wannabe." (I confess, that would be my list.) I see this sort of thing all the time, and in my opinion it is not good for personal branding because you don't really focus on your particular expertise. Try to be descriptive. And try to be specific.
The profile photo (your head shot) is slightly larger.
While there is no absolute right or wrong about photos in social networks like Twitter, do keep in mind that each of these choices says a great deal about you.
Some people use a cartoon avatar to represent themselves. While that's okay for some, I do think it communicates that the person doesn't like their real self for some reason. If you use Bart Simpson or a snowboard rather than your photo, you're limiting what you want people to think of you.
There are many choices when it comes to a photo to use. You can use a casual shot taken by a friend. This is a great option for many people. But there are many different approaches and each says something important about you. Are you in a recognizable setting, such as at a restaurant? Or someplace formal, like an office? What are you wearing? A hat? Is it a shot of you taken on a vacation with a beer in your hand? Or a head-and-shoulders photo in business attire taken by a professional photographer? Smile, or no smile? How close do you crop?
I chose a simple, recent headshot in which I am wearing casual clothing. If you care about your personal brand, you should use a representative photo of you on social networks.
Best Tweets
Tweets that have received more engagement will appear slightly larger in your Twitter feed, so your best content is easy to find. I sort of like this for when I look at someone's profile who I do not know.
Pinned Tweet
You have an opportunity to "Pin" one of your Tweets to the top of your page, so it's always there and easy for your followers to see what you're all about. I chose one I sent last week that says: "Educate and inform instead of interrupt and sell" because it nicely sums up my ideas on marketing and sales strategy.
Header Photo
Perhaps the biggest change, is that the header photo now spans the entire top of your Twitter page. This is some great real estate to showcase some aspect about you.
I love what my wife @YukariWatanabe did with hers – a photo of us kayaking this winter in Antarctica.
I made mine a photo of me speaking last month at BeWizard in Rimini Italy. I like how you can see the audience in the background. But I'm torn between several other photos of me speaking, one that I've used for several years until now, which I have included below. I might change. What do you think?
But one thing I won't be doing is using this space to "advertise" like some people do. I could put the image of my books lined up. It is a cool image. But I would rather showcase me speaking than my book covers.
Have you changed your profile? Let us know your Twitter ID in a comment.