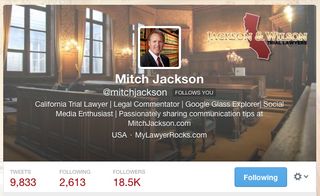 Mitch Jackson is a senior partner in the California law firm Jackson & Wilson with the fantastic pointer URL MyLawyerRocks.com.
Jackson & Wilson are an established firm, with local lawyers, judges, and past clients frequently referring cases to them.
Even though they have plenty of business, Mitch writes a blog where he comments on the legal aspects of stories in the news and shares via social networks. And he gets tons of attention as a result. His popularity has resulted in more than 18,000 followers of his @MitchJackson Twitter feed.
For example his post Michael Sam is Gay and the NFL Team That Drafts Him Will Face Major Litigation Exposure resulted just a few hours later in being invited to appear on a Fox Sports show with @Seth_Everett to talk about the NFL and Michael Sam.
Building a terrific personal brand
Did I mention Mitch is a lawyer? Many people tell me that the ideas I discuss like real-time marketing and newsjacking aren't for them. They say their business is different.
Mitch's post Who Is Responsible for the Death of Philip Seymour Hoffman? was written soon after the death was reported and gave people a different way of looking at the sad story.
"Several of my recent posts have increased views by 500-1000%," Mitch says. "The Philip Seymour Hoffman post generated a nice level of dialog and comments on Facebook, Twitter and the blog. All links with modified teaser captions were shared on my social platforms such as Twitter, Facebook, Linkedin, Instagram, Vine, Pinterest and Google Plus."
As I write this, Mitch is commenting in real-time on the Oscar Pistorius and Reeva Steenkamp murder trial happening now in South Africa. A few other recent stories include:
What Will Happen Next in the Amanda Knox Murder Case?
Justin Bieber Arrested for DUI
"My goal is to continue enjoying an expanded sphere of influence through sharing my expertise on social media as opposed to needing to get the phone to ring," Mitch says. "Although the phone does ring with these efforts, that's not really the focus. And this is also a nice and enjoyable way to break up the day."
Mitch tells me his personal favorite was the Rebecca Sedwick bulling case last October. "It gave me a chance to share tips and tools to families experiencing bullying and offer legal solutions," he says. How This California Law Firm Handles Bullying Cases
Thanks for sharing with us Mitch. Keep up the great work.