UPDATE September 7, 2013 - Congratulations to the people of Tokyo for winning the 2020 Olympic games. Let's hope the Tokyo 2020 site improves from now.
++++++++++++++
As I write this, in just two days - September 7, 2013 - the International Olympic Committee will elect the 2020 Summer Olympic Games host city at the 125th IOC Session in Buenos Aires, Argentina. The three candidate cities are Istanbul, Turkey, Madrid, Spain, and Tokyo, Japan.
I predict that Istanbul will be chosen to host the 2020 Summer Olympic Games.
I've been to both Madrid and Istanbul multiple times and I lived in Tokyo for seven years, so I know the cities. Each would be a fine host city and no matter which city wins, there will be excellent Games.
I'm basing my prediction solely on the English language websites of the Olympic bids. Sure, there are many other factors the IOC considers to choose a host city and my little analysis does not consider any of them. I'm simply looking at marketing and PR as expressed via the host city candidate sites.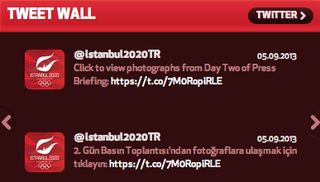 Istanbul 2020 is an excellent site for which I give a grade of B+
I love the real time aspects of the Istanbul 2020 site. There's a widget bringing up recent Facebook and Twitter posts. The Istanbul 2020 Facebook page seems well done and engaging.
There's a real-time news feed which is also cool.
I love the many original photos, which showcase both Turkey's Olympic officials as well as athletes.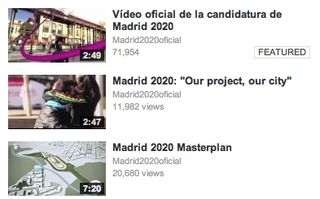 Madrid 2020 is a good site and I give it a B-

Actually Madrid and Istanbul are so close that I had a tough time choosing which I liked best. Both are engaging and colorful and it is easy to figure out where to go for the information you want.
The Madrid 2020 site has a nice focus on video with embeds from the Madrid YouTube channel. Videos are in multiple languages including this one I like Madrid 2020, Ready to Shine.
And then we have Tokyo 2020, a D-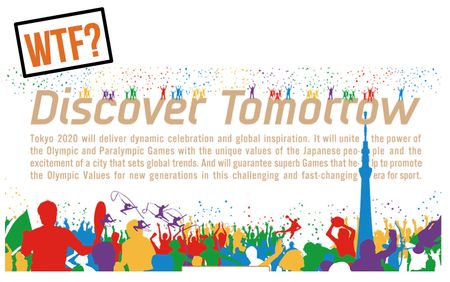 Back in April, I called the English language version of the Tokyo 2020 site, the World's worst website in a blog post. In the months since, a few minor improvements have been made to the site. In my opinion, it's still terrible though.
When I go to this site to look for information, it assaults me with a crazy popup message about "vision." These sorts of popups are so freaking annoying! It is so difficult to override the popup that I fear most people won't bother.
This site is so filled with Gobbledygook language like "rock-solid," "innovation", "world-class," and other words that just don't have any meaning.
You can read some of the other reasons I dislike the Tokyo site here.
Saving for posterity
I've gone to each of the three sites and taken a screen shot of what pops up when you first get to the site as of today. Because the host city will be announced in just 48 hours and the sites are likely to be updated (and two are likely to be taken down at some point), I wanted to capture what's there.