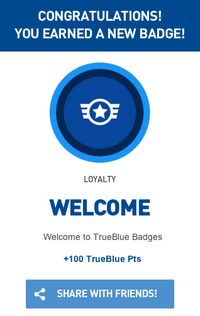 Gamification can be a great way to encourage loyal customers to share on social networks. It is an especially valuable form of marketing in the travel business.
Several times this year, I talked about how Ocean Frontiers dive resort in the Cayman Islands uses their Green Short Challenge to get their fans to share images on Facebook.
This form of marketing works! I found out about Ocean Frontiers in this way and booked a dive trip for my daughter and me as a result.
JetBlue Badges
JetBlue recently introduced their version of Gamification called JetBlue Badges. While it is a great idea, the execution means it will fail to take off.
I frequently fly JetBlue and subscribe to their email list. They alerted me to the new JetBlue Badges program and I was eager to sign up. I was imagining a Foursquare-like approach where I could gather badges for each city I have flown via JetBlue. It must be about ten or so cities by now.
A quickly found a leaderboard where you can see how you compare to other JetBlue Badges members. You can link to your Facebook or Twitter to share your progress with your friends.
It all sounds good on the surface...
Gamification in travel is smart marketing
Frequent travelers love to talk about their adventures and frequently do so on social media. For travel related businesses, making a game of your services makes sense.
People like me like to "check off the list" such as when I visited North Dakota several years ago and was able to say I have visited all 50 states. Heck, there is even a club for those who have visited 100 countries.
The best example of this approach is the Cities I've Visited app from Trip Advisor, a Facebook app with 1.2 million likes. Wow.
Clearly, Gamification in travel works.
Why JetBlue Badges falls short
There are a number of reasons why JetBlue's efforts are likely to fail. Here are four: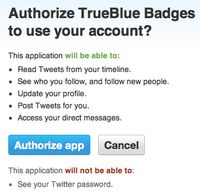 Too much personal information is required to play
JetBlue seems to require members to sign up via Facebook and / or Twitter to use the game properly. When I went to link with my Twitter, I got an ugly message saying I was authorizing JetBlue to "update your profile" and "post tweets for you." No way!! I absolutely refuse to allow apps like this.
This is a mistake because if I want to share I will. You shouldn't force people because many will simply not play.
Existing travel data is not included
As I went to sign up for the JetBlue Badges, I had visions of my map lighting up with all the cities I've traveled to with JetBlue. After all, I am a member of their TrueBlue frequent flyer program, therefore they have records of the cities I have flown to with them. Unfortunately, it starts when you sign up for JetBlue Badges.
I think it is a mistake to start the clock when you join JetBlue Badges, not when you joined the JetBlue frequent flyer program.
There is too much partner marketing
The badges that the game pushes from the beginning are mostly partner related. You can get a badge for having a JetBlue American Express card or a JetBlue MasterCard. You can get a badge for Hertz rental cars or Hilton Hotels.

This is a mistake because it puts those partners in front of the true game, which is to travel to a lot of places on JetBlue. What would JetBlue rather have: Me going to a new city? Or me getting a credit card from them?
You need to be a TrueBlue frequent flyer to see the game information.
As far as I can tell, JetBlue Badges game information, FAQs, leaderboards and other information are only accessed if you are a member of the JetBlue frequent flyer program.
This is a mistake because new customers might join if they see the game.
Gamification in your market
As you consider a game, make sure it is open and free and non-restrictive. Allow people to play a fun game and they will talk up your brand like Ocean Frontiers. Make it restrictive and the effort will not take off, like I predict JetBlue Badges won't.
Hey JetBlue! You can always change the rules. I'm flying you on Thursday this week. How about making it fun so I play, not restrictive so I don't?