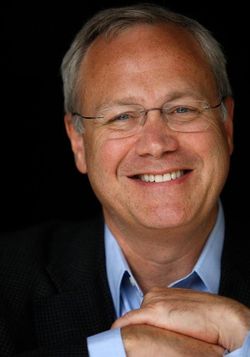 With an MBA from Wharton, a bunch of high profile marketing gigs on his resume, and a bit of gray hair to show he's got experience, Brian Kardon is what people think of as a typical Chief Marketing Officer. He's been there and done that. But he realized one day that everything he learned in school and from the early part of his career in the publishing business had become completely obsolete.
"I cared about arts and crafts," he says. "I cared about brochures and direct mail. I cared about the color on the website. And what's happened is the world had gone digital. It had gone social. It's gone mobile and we have to learn a completely new language of conversion rates and pay per click and search engine optimization and authoritative inbound links and it's a whole new world."
The journey from a traditional marketing executive to a modern CMO
I met Brian when he was CMO at Eloqua and I joined the Eloqua advisory board. Today Brian is Chief Marketing Officer at Lattice Engines a company that provides Big Data analytics for sales, marketing and business intelligence and a platform provider for predictive analytics.
There was a moment that caused Brian to realize he was turning into a marketing dinosaur and heading toward extinction. "Within my second month at being at Eloqua, I read a book called Inbound Marketing by Brian Halligan and Dharmesh Shah and I didn't put it down," Brian says. "I read it in 2.5 hours and I said to myself 'I have to give this book to everyone in my team because the world of outbound marketing is being disrupted. Everyone is time shifting. You can pause and you don't have to watch commercials. Spam filters are out there. Messages aren't going through."
[Disclosure: I wrote the foreword to Inbound Marketing.]
Brian realized that there was a new way to do marketing and the tools and techniques that were described in the book were things he didn't understand and he realized he needed to learn.
"I didn't really understand what meta tags, alt tags, and title tags were." He says. "I didn't understand about blog platforms and how WordPress worked. I didn't understand about pay per click. I didn't understand all of these things. I was the CMO. Could I have just skated along and had all my team members understand those things? I think I could have, but you can't outrun the ball. For a certain amount of time you can, but you'll get to a point where someone asks a technical question or something with a little more depth and if you haven't done it, you're not going to be successful."
Brian then did something that many executives are unwilling to do. He asked his team for help. Often. He freely admitted his ignorance but also showed he was willing to learn. And he proved he was willing to jump in and actually do real work rather than just direct from the sidelines.
"I decided just to roll up my sleeves and ask people on my team, 'How did you do that?' I had a bunch of people in their 20s and I would just sit next to them and say, 'Tell me how you did that. How did you push that out there?' or 'What are those social sharing links? How did you put that on there?' I asked how HTML works and what Java script is."
Today, Brian's 11,000+ followers of his @bkardon Twitter feed show that he's in the thick of the action and making it happen. And his work at Lattice Engines wouldn't be possible without his willingness to get down into the weeds to understand data and the technologies of digital communications.
"Lattice Engines is all about using patterns and predictive analytics to help sales people identify those prospects most likely to buy now," he says of the services that Lattice Engines offers. "Marketers are sitting on mountains of data on purchase histories. What did David Meerman Scott buy? When did he buy it? Did he pay full price? Did he buy the scarf? Was it a gift? Was it for himself? We found there's a new breed of company that is using past to predict future. You can find patterns that actually predict that David Meerman Scott's going to buy a purple scarf next month or that you only buy running shoes in November."
I asked Brian to offer advice to other senior marketers making the transition: "You've got to tell yourself you're a child again and you have to relearn what you're doing."