For the past several years, I've written and spoken extensively about the idea of real-time marketing & PR, the subject of my Wall Street Journal bestseller, now published in eight languages.
The biggest challenge of implementing real-time is one of mindset. It is tough for marketing and PR people who operate in the typical long-term planning of "campaigns" to adapt to instant engagement. This seems to be especially true of agencies that have built a business around implementing campaigns for their clients.
GolinHarris shows how an agency does real-time communications right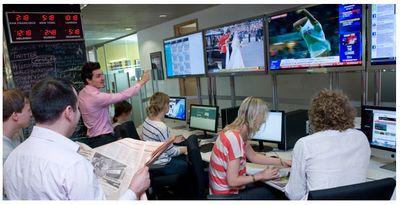 I was intrigued with the GolinHarris real-time approach of what they call "The Bridge" - a network of real-time storytelling centers - staffed in the Americas, EMEA and Asia Pacific.
This Wall Street trading room approach is exactly what I've constantly talked about and I'm excited to see it being implemented so I connected with Jim Dowd, Executive Director, National Media for GolinHarris, to learn more.
"We use The Bridge as a listening outpost but we are doing it a little differently because we have the mainstream media folks and the digital folks working side by side," Dowd says. "So we are not just looking at social media which is obviously the flavor of the day. Digital and mainstream are literally sitting next to each other and they are coming up with ideas and are pitching media together and that is where we have seen just terrific traction."
For example, on the day that Michelle Obama announced a new food pyramid called MyPlate, the GolinHarris team watched the press conference live on CNN looking for ways to get their clients into the emerging memes. "We are watching all the activity online and took an idea to Hartz to create a food pyramid for dogs," Dowd says. The client loved the idea and reacted quickly. The team generated some attention as a result.
Generating quick client approvals
With most clients working at a glacially slow pace, requiring lengthy legal and PR client-side reviews, I wondered how GolinHarris is able to get speedy signoffs on ideas generated from The Bridge.
"Yeah, approval is always tricky particularly with legal departments," he says. GolinHarris works with clients to develop topics ahead of time in anticipation of potential stories so that they can work quickly. "With clients like McDonalds we have general topics that we predict, like if something comes up about the Happy Meal. McDonalds have preapproved that we can have certain conversations about Happy Meals with language we can go out with."
Just like a 24-hour Wall Street bond trading desk
The Bridge is set up just like a 24 hour Wall Street trading desk with three regions – Asia, Europe, and North America - passing the work around the globe.
"We are truly doing it globally," Dowd says, "We are 24/7 so we will scour the landscape the first few hours of the day here in New York then we will pass all of our results and insights onto Chicago and Chicago to LA. And you know, the whole notion of offices and cubes may go away. It's exciting to be able to walk in The Bridge and literally see what is going on."
Newsjacking the Super Bowl
When you have a real-time mindset and the tools of a facility like The Bridge, then Newsjacking becomes second nature.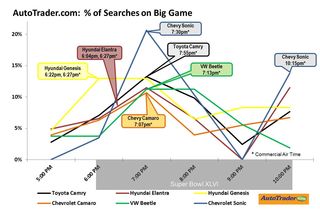 "Our client AutoTrader.com challenged us to make them the leader in all of the post- Super Bowl auto commercial coverage," Dowd says. AutoTrader.com did not advertise during the Super Bowl but wanted to generate a bunch of attention anyway - a classic newsjacking strategy.
AutoTrader's analysts worked with GolinHarris to create data on consumers' real-time search patterns during the Super Bowl. They used data from the AutoTrader.com site and correlated that to the times auto commercials aired looking for lift (how much of a boost in search activity each vehicle got in the hour after its ad appeared). They provided the resulting data to the media who used it in stories like Acura NSX Won Big with Super Bowl Spot, Survey Says which appeared on the Wall Street Journal site.
Overcoming fear
"There are lot of clients who love the notion of the bridge and real time marketing and what we are doing but aren't jumping on it out of fear - fear of the unknown, fear of the new," Dowd says. "A lot of our clients are still quite old school and traditional."
There's nothing like success to break down the fear barrier.
Dowd cites Dow Chemical as a noteworthy GolinHarris real-time success. The company is very careful with stories related to such topics as chemistry or chemical engineering or stem research but that doesn't mean they can't engage in real-time.
"We were in The Bridge tracking that President Obama was going to give the Teacher of the Year Award and we were watching live on CNN," he says. "And it was a chemistry teacher who won that award so we immediately got approval from Dow Chemical to go ahead and offer up public congratulations to the teacher and that resulted in some nice coverage. Even with the trickier clients there are always topics that will work."
Images courtesy of GolinHarris