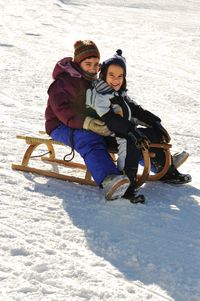 Yesterday was a snow day in much of the USA.
My daughter's school was closed because the superintendent decided it was too dangerous to have the students come to class.
What about companies?
Many companies fretted about staying open or closing for the day. I've heard from friends whose companies failed to call a "snow day" yesterday and caused people to be stranded on the highway trying to get to work. Others closed the office needlessly because road conditions were not so bad that people could not get into work.
What a stupid process
Why not empower employees to make their own decisions about getting to work? When people control their own behavior, they can say: "Hey the snow is awful, I am working from home today." Or they can say: "It seems okay, I'm gonna go into work."
When companies establish rules and policies on things like snow (or social media), they are treating employees in the same way that schools treat children.
If your company employs adults, you need to treat them like adults.
One reason why good people who work at companies with a command and control mentality get frustrated is that they lose control of their own decision making power. The not so good tend to study the policy and do the minimum to satisfy the rules.
Eliminating rules at HubSpot

HubSpot, a company I admire, take the "treat employees as adults" mantra seriously.
"Because we started in the post-Internet age with people who live and breathe the Web, we run the business in a unique way," says Brian Halligan, co-founder and CEO of HubSpot. "Instead of command and control, we empower people at the edges, and that changes the way you hire, promote, the hierarchy, and so on. We have a very different sense of trust and autonomy than most companies. And it has big importance for leadership."
Since Brian runs HubSpot as an always-on, real-time enterprise, the lines between "work" and "private time" blur to the point that the vacation policy was eliminated—people just take time off when they need it.
"In my father's era, people worked 9-to-6 every day in an office," Brian says. "It was very structured, and he had to be in the office to get the work done. But our people have iPhones, and they are always online even on the weekends. It seemed very silly to us that people who sometimes worked for a few hours at home on a Sunday needed to formally request time off on a weekday. It just seems ludicrous to have this whole vacation policy so we said, 'Take whatever vacation you want; we trust you.' It's not command and control. Instead, it's very much about trusting and autonomy and pushing the decisions down so people can react in a real-time way."
What about abuse of trust?
When I talk about eliminating rules such as vacation policies and social media restrictions, people always ask about violation of trust. What happens when people take too much time off for example?
Simple. Fire their sorry ass. (You can give them a warning the first time if you want). The rest of the team already knows they are slackers anyway and will applaud your decision.
+++++++
UPDATE February 3, 2011 at 11:12 am -- Brian just sent me the actual HubSpot snow policy. Click the image to enlarge. It is three words: "Use Common Sense."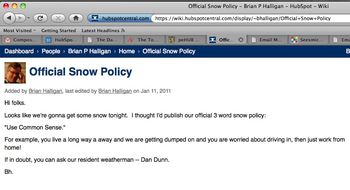 Image: Shutterstock / Zurijeta
Disclosure: I am "Marketer in Residence" at HubSpot.