An interesting aspect of real time marketing & PR is how organizations work towards an event happening at a fixed, known time. Here in America, for example, we're in the thick of the midterm elections happening on Tuesday November 2.

I like the approach of HeadCount, a nonpartisan organization that works with musicians to promote participation in democracy. A particular focus of HeadCount is getting young people interested in the process, registered to vote, and to the polls on election day.
Learning from what works in other industries
I'm convinced that all organizations can learn from others' success in the real-time world – it doesn't matter if you work at a B2B company or an ecommerce site or in the music business.
Several months ago, HeadCount led a voter registration effort where musicians placed a link on their Facebook pages linking their fans to a HeadCount voter registration page with state-by-state information. People who pledged to register could download free music. These sorts of efforts have led to nearly 175,000 people registering to vote since HeadCount was founded.

Now, as the election is just one week away, HeadCount is working with artists to get people to the polls next Tuesday. Fans may sign up to get a reminder phone call from their choice of participating artists
While most calls will be automated, what makes it particularly interesting is that many musicians will be making personal phone calls to randomly selected fans.
Choices include Bob Weir, Wille Nelson, Wayne Coyne, Grace Potter, Warren Haynes, Jon Fishman, Marc Brownstein, Matt Berninger of The National, Yim Yames of My Morning Jacket, Brett Dennen and Adam Gardner of Guster.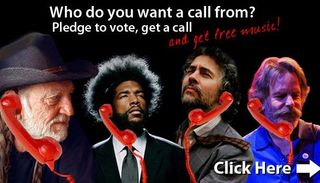 Since I'm a member of the digital media advisory board of HeadCount, I was able to participate on a conference call yesterday with some of the artists. Bob Weir of the Grateful Dead (and now touring with Furthur) says he wants people to think about the implications of voting and why voting is important. He says he is planning to make a lot of personal calls because he wants to hear from people to get a sense of where to take the get out a vote effort in the future.
"People have busy lives," Bobby told us. "Younger people, by the nature of their lives are a little more scattered. They have a lot of irons in the fire. Voting and participating in the process is one more nagging interest in your life. We're trying to subtly bring them to the awareness that you've got to do it. It's going to make a difference for you and your future and your children's future. We need to remind people at every election. You've got to make yourself heard if you want things to go your way."
As you think about your business, what event is coming up that you can play off of in real time?