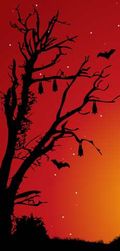 I've been using the new Twitter client for a few weeks. While I normally use Tweetdeck for every day Twitter activity on my notebook computer, I do go to the Twitter client to see people's profiles.
Today on my Twitter profile I noticed a "Similar to You" feature on the right.
It creeped me out.
What got my attention is that the people that Twitter picked as similar to me really are all amazingly similar to me.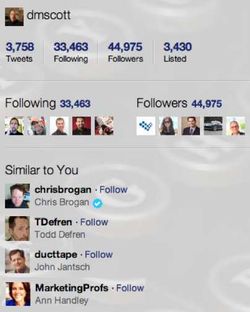 How did Twitter select some of my closest business associates and friends as similar to me?
It's kinda freaky.
I pushed "refresh" and it happened again!
I've recently shared lunch with each of these people.
Whatever algorithm is at use is so good as to be human-like in its selection.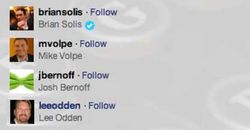 BTW -- I'm not quite sure why each of the people Twitter selected have a "follow" button next to their names, because I already follow all of these fine folks.
(If you are not already doing so, you should be following all of these people.)
Here are the similarities:
Chris Brogan is a fellow Bostonian, Wiley author, and frequent speaker on the conference circuit that I travel. I hung out with Chris at the Inbound Marketing Summit two weeks ago (which included lunch) where we both spoke and we are both on a panel next week at the SAS sponsored PBLS conference in Las Vegas.
Todd Defren and I have talked about the transitions going on in the PR world many times. Two days ago I was in San Francisco speaking at Eloqua Experience and had an opportunity to huddle with Todd for a half hour. Our last lunch was at a sidewalk cafe in San Francisco in August.
John Jantsch has great shoes. Every time I see him, he seems to have a different color Converse Chuck Taylor's on. Two weeks ago when we chatted over lunch at IMS they were black. Last week we recorded a podcast which will be released soon.
Ann Handley has a new book Content Rules (written with C.C. Chapman) coming out in a few weeks. I wrote the foreword to the book. Ann, Chris Brogan and I were on a panel together a few weeks at the HubSpot User Conference and I enjoyed Indian food with Ann in September.
Brian Solis is a tireless proponent of putting the public back into public relations. Like me, he is also an author and speaker. We both delivered keynotes at the Vocus User Conference this summer and while we didn't sit together, I saw him at lunch.
Mike Volpe, the VP Marketing at HubSpot has shared my obsession with new marketing since we first met for lunch in 2007. We last met for lunch just a few weeks ago.
Josh Bernoff, another multi-book author chronicling new ways to influence people also lives in the Boston area. We had a great lunch at his favorite Chinese restaurant and talked books.
Lee Odden was also at the Vocus User Conference and after scarfing some amazing sushi, we went into the hotel's garden to film a YouTube video.
I'm flabbergasted by this "similar" feature.
Anyone else get creeped out by it?
Image: Shutterstock / TyBy