What was once a predictable twenty-four-hour news cycle driven by the evening television news broadcasts and daily newspaper production deadlines is now an always-on, real-time, constantly evolving flow of news from thousands of mainstream sources.
Mainstream media is fed by millions of citizen journalists via blogs, Twitter feeds, YouTube, Flickr, and many other services.
Not too long ago, the primary way for organizations to influence the news was for their PR people to spend a week or more crafting a press release, vetting it with the lawyers and executives, sending it out to the media (together with a pitch), and hopefully getting a journalist on the phone so they could provide him or her with additional details.
Now reporters come looking for you.
Today's real-time news cycle provides a great opportunity for you to influence reporters and editors at precisely the moment they need you. Why not have someone in your organization comment on news related to your business? Post an analysis on your blog. Tweet a pithy quote (using an appropriate hash tag). Shoot some photos or video.
Front page of the Boston Globe
Over the weekend, a "water crisis" occurred in the Boston area and my community was affected. I thought the authorities did an excellent job with the communications aspects of the situation, so I blogged it on Monday (while the crisis was still playing out). Here is the post: Massachusetts Water Resources Authority real-time crisis communications
Less than two hours after I published the blog post, Boston Globe Reporter Don Aucoin found it and contacted me for comment on a story he was in the process of researching and writing about the communications aspect of this emergency. He contacted me via email and asked if we could talk that day. Of course I agreed and we were on the phone right away.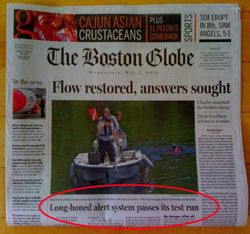 Aucoin's story Long-honed alert system passes its test run ran on the front page of today's Boston Globe. The story also ran online and was fed to the wire services for syndication. The story included a quote from me with a mention of my book The New Rules of Marketing & PR.
This example proves that reporters are scanning blogs for potential sources for their stories.
Get in synch with the real-time news cycle
Are you feeding reporters what they need?
While everyone knows that the online world is faster than ever, few people use the marketing and PR strategies (and tactics) consistent with this new reality.
I see PR departments, lawyers, and executives insisting on "reviewing" communications (which takes days or even weeks). When this happens, the crucial moment is lost.
When the old slow and steady approach is used, at best an opportunity is missed. At worst (in a crisis), the organization is seen as an unresponsive (and therefore uncaring) dinosaur, and customers leave in droves. (Just ask Toyota.)
I've got a new book coming out in November about this an other related topics called Real-Time Marketing & PR.
Stopwatch image: Shutterstock / Ilin Sergey