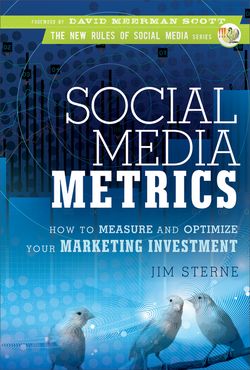 Jim Sterne has written an outstanding book called Social Media Metrics: How to Measure and Optimize Your Marketing Investment which releases this week.
This is the third book in my New Rules of Social Media book series (following Inbound Marketing and Get Seen).
Readers of my blog and those who have seen my talks will know that I am very critical of the old "ROI" version of measuring marketing. You can hear my Epic ROI Rant where I go off on the topic for a few minutes (resisting the dropping of F-bombs the entire time).
A decade ago, I was vice president of marketing and PR for a NASDAQ-traded business-to-business technology company. We measured success in two ways. Our lead generation programs were measured via "sales leads": the number of people who requested a white paper or who tossed a business card into a fishbowl at the trade show. Our public relations programs were measured via a PR "clip book", a gathering of all the clippings of magazine and newspaper articles written about the company. The book represented a month's worth of clippings and was usually bound for us by our PR agency.
Fast forward to 2010.
Social media gives everyone—not only B2B companies but also consumer brands, consultants, nonprofits, and even rock bands, churches, and colleges—a tremendous opportunity to reach people and engage them in new and different ways. Now we can earn attention by creating something interesting and valuable and then publishing it online for free: a YouTube video, a blog, a research report, photos, a Twitter stream, an e-book, a Facebook page.
But how should we measure?
A debate has raged in recent years. On one hand, people tried to adapt old (but successful) offline measurements to the social media world. For example, many marketers slapped squeeze pages onto practically all content, generating "leads" but preventing people from sharing. On the other hand, a cadre of social media proponents argued for no measurement at all, since "social media is just different."
Fortunately, Jim Sterne came to the rescue with this terrific book.
Jim Sterne knows more than anybody about how to measure marketing investment. He is the producer of the international eMetrics Marketing Optimization Summits and is the co-founder and current Chairman of the Web Analytics Association.
I particularly like that Social Media Metrics is crammed with examples from real-world companies for you to learn from.
Far from an academic tome on regression analysis, this is a practical book packed with ideas you can apply to your business today.
This is certainly an important and timely book and I thank Jim for writing it and for doing it as part of my series.
For a fun overview from Jim's perspective, read his article in ClickZ about Social Media Metrics called Don't Buy This Book
If you are struggling with how to measure your investment in online marketing, I hope you will consider Jim's book as a place to turn for help. If you do, let me know what you think of Jim's ideas.