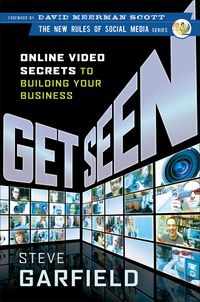 Today, Get Seen: Online Video Secrets to Building Your Business by Steve Garfield officially releases. Get Seen is the second book in my New Rules of Social Media book series.
For the past year, I've been obsessed with creating videos. I use a Flip video camera, a small and inexpensive digital video recorder that I take with me everywhere. I never know where a great video interview opportunity might present itself. I was certainly glad I had my Flip camera when I interviewed Amanda Palmer, lead singer for the punk band The Dresden Dolls. And when I met Fritz Henderson, CEO of General Motors. And yesterday, when I heard President Obama speak, out came the video camera.
There are also many occasions when I realize an idea will be best expressed on video, as in my short clip Do you sell camels? which I filmed outside Riyadh, Saudi Arabia.
"This is Steve Garfield from SteveGarfield.com."
Each time I hear Steve's signature opening, a smile crosses my face, because I know the video he is introducing will be both interesting and entertaining. Steve is a pioneer. He started combining his blog with video clips way back in early 2004 (before YouTube). At the time his hybrid was a bit strange. But it was something new and revolutionary, and he was among the first to do it.
Some four years later, Steve's citizen journalism during the U.S. presidential election was seen by thousands of people. Then CNN found him. They put his content on television and on the popular CNN.com Web site, and then it was seen by millions. You see, self-publishing your video on the Web is to Get Seen. As Steve shows in this book, quality Web video can earn you a huge audience. Video can tell a story, and it has great potential for applications in citizen journalism, marketing, or simply sharing moments of your life with the circle of people who are important to you.
Steve showed me just how damn easy it is to get going. I freely admit that I'm a technical dummy. I wouldn't know a line of HTML if it bit me on the butt. But Steve shares how even a technophobe like me can shoot a great video and post it online for the world to see. I now do videos nearly every week. Some have been seen thousands of times. Steve created a monster (a good one) in me, and he'll do the same for you!
But this book is packed with much more than just basics for beginners. Steve digs into details that will benefit even veteran video experts who want to hone their online video efforts. I'm thinking in particular of his treatment of camera choice, lighting, sound, and distribution platforms, but this list just scratches the surface.
I love that Steve has written the book like a really big blog post. It's accessible and practical and it reads like something you'd study for fun rather than for work. Steve delivers it all in a blogger style that says: "I gotta keep your interest or I know that you'll click away to somewhere else."
So grab your camera, start recording, and remember to have fun!