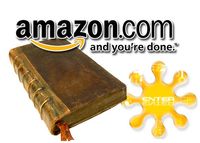 With all the buzz in 2009 about the big social networking sites such as Twitter and Facebook, I'd like to give a plug to one of my favorite social networking sites.
I know, I know. Most people don't consider Amazon to be social networking. It's shopping, right?
Don't overlook the incredible communities that thrive on sites like Amazon, where customer reviews, profiles of those customer reviewers, author profiles and user conversations take place every day.
My book The New Rules of Marketing & PR has 181 reviews as I write this. The book has sold tens of thousands of copies through Amazon since it came out, so imagine how many people have seen the page?
The first review that people see on the page was written by Brad Shorr on May 30, 2007 - the first day that the original hardcover edition of the book was offered for sale.
How about that for social networking? Brad's review along with his name and affiliation is seen be perhaps 100,000 people. All he had to do was read the book and post a short, thoughtful review in real-time when the book was released.
Amazon customers can also link over to Brad's profile and see the other 250 reviews Brad has done too. Or they can see the review by Jill Konrath in the number two position as ranked by reader feedback. Not bad for Brad's and Jill's personal brands, don't you think?
Think about your marketplace. Why not be the first to review a new book on Amazon? If you're a real estate agent and you write a thoughtful review on a new book about real estate investing, it may be seen by tens of thousands of people.
Don't forget that the author and members of the media will likely see your review too. People who then visit your Amazon profile learn about you and your business and some may contact you. Maybe someone looking to buy a home will see your location and contact you. That's what social networking is all about, right?
Other review-based sites to check out include Rotten Tomatoes (movie reviews), Zagats (restaurant reviews), and Yelp (reviews of local businesses). There are many more such sites. Don't forget to create a useful profile for yourself with contact information.
But it's not just reviewers. Authors also have a page on Amazon. If you're an author, you need to customize your Amazon page like I did – you can even link your blog's RSS feed to your Amazon author profile.
Thank you for reading this far.
As a bonus for careful readers, I'd like to quietly announce that the second edition of The New Rules of Marketing & PR, completely revised and updated for the new decade, will release in the first week of January 2010. (Note that the nearly 200 Amazon reviews of the first edition will carry over to the second edition upon release.)
You'll find the second edition of The New Rules of Marketing & PR available for pre-sale at Amazon, Barnes & Noble, Borders, Books-a-Million, 800 CEO Read, and other booksellers now.
I'll blog more about the second edition in January. But I wanted you to know first. Thanks for your support.