Many people who have never used Twitter dismiss it by saying something like "Why would anyone care about what I'm eating for breakfast?" People tell me that Twitter is silly, that it's a fad, and not a business tool.
My response is that if you're having lunch with cool people or in an amazing setting, someone will care. And I suggest that Twitter is a business tool when you tweet about things related to your work.
I've written about a few twitter successes such as How David Murray found a new job via Twitter and How Amanda Palmer made $11,000 on Twitter in two hours. I also related how a tweet led to connecting with Keri Nelson who photographed my World Wide Rave poster at Wilson Piedmont Glacier, Marble Point, Antarctica.
But many businesspeople are still skeptical. I suspect it is mainly fear.
Please leave your own "power of Twitter" comment here. Let us know if Twitter has led you to a business success.
Here's one of my own "power of Twitter" examples.
In April, 2009 I tweeted that I was soon to be on my way to Wellington, New Zealand to speak at the Marketing Now! conference. Jennifer Frahm tweeted back and asked me if I could swing by Australia for a speaking engagement too. I tweeted that my schedule was too tight but I'd love to book something for later in the year.
A few weeks later we inked a deal for me to spend a week in Australia, half the week in Sydney and half in Melbourne. Cool. And all because of Twitter!
My week in Australia that happened because of a tweet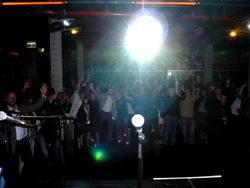 A few hours after arriving in Sydney on Monday August 31, 2009, I participated in a Social Media Club Sydney event with Forrester Senior Analyst Steven Noble at the hip and stylish Oxford Art Factory. I'm not used to speaking after 20 hours on planes and to an audience that has been drinking (some heavily), but the fact that there were several hundred people in a venue usually used for rock shows (Death Cab for Cutie played there) I was psyched. I snapped a photo at the mic of my view of the slightly unruly (but lovable) crowd. The elevated stage with the "green room" behind made me feel like a rock star. Cool. Judging from the twitter stream, people enjoyed the event.
The next morning was a fun blogger breakfast and I met @trib @matthewho @kimota @iggypintado @abroadabroadeh @katiechatfield and @marketingangels. I also met with a group of select bloggers in Melbourne. This photo helps me to debunk the "who cares what I had for breakfast" question. Well, if you're having breakfast with some of the coolest people in Sydney, then others will care...
In both Sydney and Melbourne, I met with clients of Next Digital, principal sponsors of my Australia tour. We discussed the new rules of marketing and using social media to reach an audience.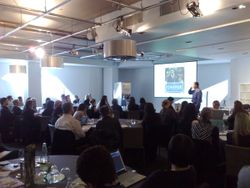 The main event of the week was a full day social media masterclass on Friday in Melbourne. We had nearly 100 people at Champions at Federation Square, a fun and funky venue.
I run my full day events at a fast pace with tons of examples. I like to show YouTube videos. I tell really bad jokes. My worst fear is that an audience becomes bored. Judging from the feedback, people seemed to enjoy the masterclass.
Boy am I glad for that tweet a few months ago! Jennifer Frahm cooked up one of the most interesting and fun weeks on the road I've had in a very long time. (Thank you Jennifer!). Jennifer is an amazing connector. Through her, I met so many fun an interesting people. (Shall we do it again, gang?)
Thanks to Next Digital, Trevor Young of Park Young, and Marketing Magazine (Kate Kendall, Kylie Flavell, and Stacey Manley) for their support of the event. And thanks also to Jim Stewart, my Australian SEO guru and friend, for your efforts.
Karalee Evans @karalee_ and Yvonne Adelle @ideasculture tweeted the entire MasterClass live with many others both in the room and all over the world popping into the tweet stream. BTW, Karalee wrote one of the best posts on "new PR" I have ever read dear Rupert, I think I want to break up. Check it out.
Okay, so there's my "power of Twitter to drive business" story. Do you have one too? Please leave a comment here and let us know if Twitter has led you to a business success.
Twitter image via Future Summit blog