UPDATE
About three hours after I sent the post below, I was contacted by Deb Collins, VP of Sales & Marketing at Delaware North Companies Parks & Resorts. Please be sure to read her comment (the 5th one below my original post).
+++++++
ORIGINAL POST
I've been noticing more and more people playing fast and loose with email opt-ins. Maybe the tough economy forces otherwise reputable organizations to go close to the edge? Or maybe email marketing programs are relegated to junior marketers who don't know better? Sure, one person may buy your product, but is it worth annoying thousands? Is the economy really that tough?

Readers of this blog know I am a fan of the Apollo moon program. Obsessed is a word my family would use. Need proof? Here's my Apollo Artifacts blog.
I've been to Kennedy Space Center in Florida several times, most recently to watch the launch of STS-117 and to attend events with Apollo astronauts. So that I am alerted to upcoming Space Shuttle launches, I signed up for emails. Here's what I signed up for:

"Get the latest on upcoming launches. Sign up for free e-mail updates and we'll send you the latest information on launches and Kennedy Space Center events throughout the year."

I got this in a return email:
"Thanks for signing up for information on launches and events at Kennedy Space Center Visitor Complex. We are excited to have you as a member of our distinguished online community and hope you find our website user friendly and informational. We will update you throughout out the year on special events, promotions, newsletters, and discounts. Thank You!"
So far so good.
A typical email signup that happens millions of times a day. I wanted information and KSC agreed to provide it.
But some time later, I received this email
"FROM Kennedy Space Center Visitor Complex
SUBJECT Last-minute summer escapes from Delaware North
At Delaware North Companies Parks & Resorts, we realize what summer is all about. It's our chance to get away from work and home as we search for a little adventure, reconnect with nature and forget about some of our responsibilities. That's why you'll find a number of affordable summer packages, unforgettable events, fun activities and more at all of our destinations this summer.
Beat the heat as you hike or bike your way through the High Sierra at Yosemite, Tenaya and Sequoia. Treat yourself to a spa treatment at Gideon Putnam. Or saddle up and ride to an old-fashioned barbeque at Yellowstone. Choose a category below to find out how we can help you satisfy your sense of adventure."
I feel abused. This is not what I signed up for.
Turns out Delaware North is a resort operator that runs the Kennedy Space Center Visitor Complex.
It seems clear that the fine print of what I signed up for with the Shuttle launch emails from Kennedy Space Center entitles Delaware North to pimp their other properties.
Yes, the Delaware North lawyers were satisfied. But that does not make it right to abuse fans of manned spaceflight by hawking a trip to Finger Lakes Gaming & Racetrack? No. Of course not.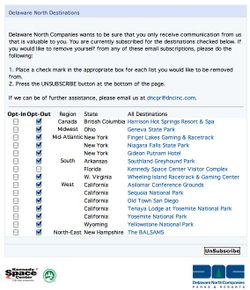 When I went to opt-out, I had to click on 14 different check boxes (each one returning me to the top of the page) which took more than a minute. [NOTE: Click the image to enlarge.]
What makes marketers at Delaware North think that because I want to know when NASA is launching a Space Shuttle that I might also be interested in Southland Greyhound Park in Arkansas? Obviously the only connection is Delaware North and for that reason this is an abusive practice.
Seth Godin outlined permission marketing best practices ten years ago in his book by that title. Yet these sleazy practices still go on.
Delaware North should re-think their email marketing strategies.
Or perhaps NASA should re-think Delaware North.
What about your email marketing practices? Are you playing fast and loose?