I'm now in my 40s. Thinking back to when I was in my 20s, what I recall about personal branding was basically this: Don't get noticeably drunk in public, carry business cards at all times (this was pre-Twitter after all), and wear a suit and tie to work (my first few jobs were on Wall Street).
Man oh man, has personal branding come a long way!
Especially for those of you who are now in your 20s, personal branding is more important than ever. Of course, the tools of personal branding on the Web make things much different than when I was scribbling my 140 characters on the back of a business card.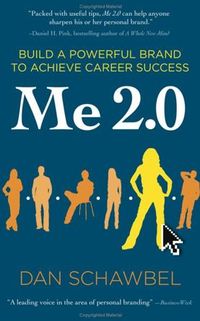 Brand authenticity and its communication through social media are two of the hottest ideas in business today. In his new book Me 2.0 which officially releases today, my friend Dan Schawbel shows exactly why these important trends apply to the brand called 'you,' and why you need to pay attention to how you market yourself to others. I wish I had access to a book like this when I was in my 20s!
Dan also released a free ebook called Blogging your Brand, which I recommend to anyone who is doing online personal branding (even if you're not in your 20s).
Besides being a personal branding guru, Dan also works at EMC.
I'm intrigued by what Dan has learned about being a go-getting twenty-something in a large organization. Dan and I have discussed this several times in the past, but this time, I wanted to capture the conversation to share with you:
DMScott: Dan, you're a young person making a big difference at a large corporation. But I hear from so many people in their 20s who tell me that they find it really tough to get noticed. What advice do you have?


Dan Schawbel: "Most people my age are afraid to take risks, we're given the same traditional advice in college that is not as applicable anymore and don't embrace their age in the first place. Being young has a lot of advantages, namely the fact that you have the least amount of responsibilities, the most amount of choices and time to make a lot of mistakes. The sooner young professionals start holding themselves accountable for their career, the better off they will be. In my new book, Me 2.0, the major theme is this idea of "commanding your career," where you take charge, instead of relying on your company, parents or teachers to guide you (although mentorship is important).
Social technologies have enabled us, regardless of age, to position ourselves so that we can get paid for doing something we're passionate about. In order to get noticed, you have to be known for something. To do that, you have to select a niche that aligns both your passion with expertise. Then start actively contributing content, either video or text, over a period of time on that niche topic, while joining social networks and constantly marketing yourself by commenting on blogs."
DMScott: Many large companies ban employees from using social media sites like YouTube and Facebook at work. What would you say to an employee who works for a company that bans social media? And what would you say to the bosses?
Dan Schawbel: "Social media in the workplace is inevitable, especially because 80 million millennials are already communicating with each other using these tools. Large companies, and I know you agree with this, will cease to exist in the future, unless they embrace and encourage these tools today. Many companies have already implemented social networks for their employees, such as my company, EMC, and other large technology companies with global workforces.
It's really hard to tell an employee to quit their job right now because their company bans social media (economic reasons), but I would recommend that they start "exploring other opportunities" or network with other professionals, regardless. How managers behave directly impacts the experience younger workers have with their company. If managers don't allow social networks, then it's very conflicting and young employees will start to lose enthusiasm for working in that corporate environment and leave sooner rather than later."

DMScott: How do you define personal branding and why is it important?
Dan Schawbel: "Personal branding is how we market ourselves to others. Each and every one of us has a brand because we are constantly being judged based on first impressions. Also, we are forced to sell our ideas and unique abilities to all stakeholders inside a company or as an entrepreneur. Personal branding is critical in a world filled with clutter, competition and ambiguity. To be a brand means to use similar branding strategies that corporations and products use to create an experience - a friendship - with an audience. People trust people, and will therefore be more inclined to purchase your product or hire you based on their relationship with you or what they hear about you."
DMScott: Can personal brands lend to the success of companies?
Dan Schawbel: "The necessity for personal brands will always increase, as marketing budgets decrease (in this recession) and the need to spread messages through social media accelerates. Social media is free at the cost of your time and employees with strong personal brands and networks can help you market your ideas, products, service and even executives easily and effectively. It can also create a viral effect. By hiring someone who is already a major influencer in your industry, you're gaining that credibility, following and platform. In return, personal branding must be encouraged and rewarded because it takes a lot of time, energy and care. Personal brands own their reputation, and that reputation is transferable between companies. Companies can use that reputation to close deals, reach the press and become a stronger brand."
DMScott: Thanks Dan. Good luck with the new book!