In an environment where many organizations are afraid of social media, consider the bold move made by the New York Islanders. The team created what they call the "blog box," providing press credentials for bloggers to attend select games. Bloggers receive a set of game notes just like those provided to regular beat reporters and broadcasters from newspaper and TV. The bloggers have a special section to sit for games, have access to team practices, and opportunities to interview players and coaches after games.
This is a terrific example of how a smart organization cultivates and encourages participation in social media.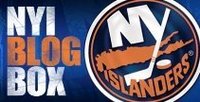 The Islanders Blog Box rules are simple: "The NYI Blog Box will be your open forum. From start to finish, you'll be in control. All we ask is for the chosen bloggers to act respectfully in the restricted media areas and keep all critiques in good taste."
The blog box program was started at the beginning of the 2007-2008 season and appeared to be a first for a major professional sports team. The program continues with the upcoming season. About a dozen bloggers were chosen for the credentials last season and the team links to their blogs from its site.
Contrast what the Islanders have done to the vast majority of organizations. I've found that most communicators are scared to death of bloggers. Executives frequently ask me: "What if they say something negative?" PR people say: "These aren't real journalists. Why should we care about a bunch of geeks in their pajamas?"
Guess what? Bloggers like Frank Trovato are already blogging about the Islanders! Bloggers are likely already talking about your organization too. Why not cultivate a relationship?
Frank says: "My goals for this blog are to voice not only my opinions, but the opinions of so many Islander fans that never get the chance to get their opinions heard because of the lack of forums available to us in the media. The Islanders organization continue to provide the fans the opportunity to speak out and be vocal and no matter what our opinions are seem to really listen and care what we think."
What can your organization do to work with bloggers (and podcasters / vodcasters too)? Can you provide access to your organization like the Islanders have? Can you include bloggers in your press conferences? Does it make sense to schedule interviews with your executives for bloggers? How about making bloggers part of your product beta tests? These are just a few ideas, maybe you have more.
Disclosure: Last week I spent half a day with a group of marketers and communicators from the New York Islanders to discuss the new rules of marketing & PR. In the photo, I'm the dude with the black striped shirt (note a stack of my books behind my head). Josh Bernstein, vice president of communications for the Islanders is in a coat and tie. (Thanks Josh!)